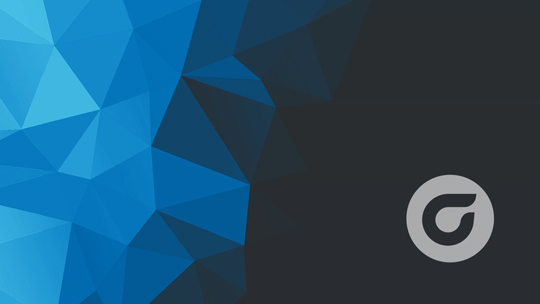 GibbsCAM Eliminates Operations on Big Parts
Machining components for final assemblies that might weigh 16,800,000 pounds and extend the length of one and a half football fields involves challenges unlike those faced at typical shops. Rather than complicated geometry or other production issues, the greatest difficulties often involve setup and changeover between operations—the actual moving and positioning of these monstrous workpieces. That's the case at Bucyrus International, a Milwaukee, Wisconsin-based manufacturer of earth-moving equipment for miners that extract coal, minerals and oil from the Earth's surface.
With GibbsCAM software, the company has reduced downtime spent readjusting the huge workpieces by cutting back on the number of required machining operations. Additionally, the software's simulation feature helps prevent damage to the costly parts, while its reporting functions enable the shop to estimate machining time and component costs.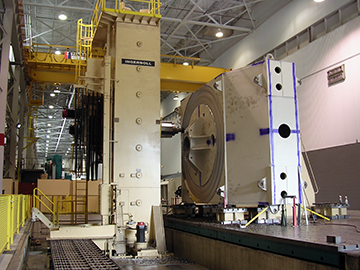 With the exception of a three-year period from 1942 to 1945, when 60 percent of its production went to the war effort, Bucyrus has been dedicated to manufacturing shovels, draglines and drills since its founding in 1880. With 80 percent of sales outside the United States, the company's growth and longevity are said to be a result of its success in surface mining and its acquisition of competitors during the past 75 years. One such acquisition, the purchase of German mining equipment company DBT GmbH in 2007, extended the company's reach into underground mining and increased its payroll to 6,000 employees.
The South Milwaukee facility has served as the company's headquarters since 1893 and houses nearly 1,400 employees. This total includes seven programmers who support more than 25 CNC machine tools in a shop that makes components and spare parts for nearly all the equipment Bucyrus and its acquisitions have ever manufactured. While the shop has an assortment of mid-sized to large HMCs, VMCs and lathes, the CNCs that accommodate the largest parts are a pair of identical Ingersoll Innse Aries 3 horizontal boring mills. These massive machines have 130-hp spindle motors; X-axis travels of 670 inches and Y-axis travels of 216 inches; Z and W axes; and dozens of toolholders, automatic toolchangers and tool magazines.
Bucyrus uses SolidWorks for modeling parts and Cadra for some 2D drawings. Programmers import SolidWorks models and Cadra geometry into GibbsCAM to generate NC code. "Sometimes, we have to work from drawings made in the 1920s to make parts for customers using old machines," says Jim Koehler, machine shop programming supervisor. "I don't recall ever turning down a customer who needed a part." In cases such as these when a CAD model is not available, programmers create the geometry in GibbsCAM.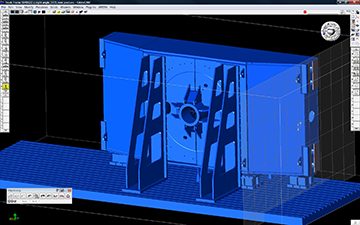 The majority of the parts are geometrically simple and machined in 2.5 axes. However, Mr. Koehler says simple geometry does not imply easy work for his department. In addition to finding ways to reduce downtime spent setting up workpieces, programmers are charged with generating accurate machining-time estimates that serve various other departments.
One example of how GibbsCAM has helped the shop achieve these goals and more, involves the production of a truck frame and boom for one of the company's electric mining shovels. Designed to operate 24/7, these shovels are driven by 2,600-hp hoist motors and 700-hp crowd motors, weigh more than 1,400 tons, have 67-foot-long booms and can move 120 tons of earth in one pass. The operator's cab sits three stories high. "These machines are so large that in my 10 years at Bucyrus, I have never seen one assembled here," Mr. Koehler says. "They are assembled at the mine site from subassemblies."
The truck frame and boom represent two of the largest machined components of the shovel assembly. The truck frame sits atop the machine's crawlers (tracks) to support the revolving frame, which is separated from the truck frame by a set of gears and a huge bearing system. The boom serves as the shovel connection point and supports the pulley system and cable.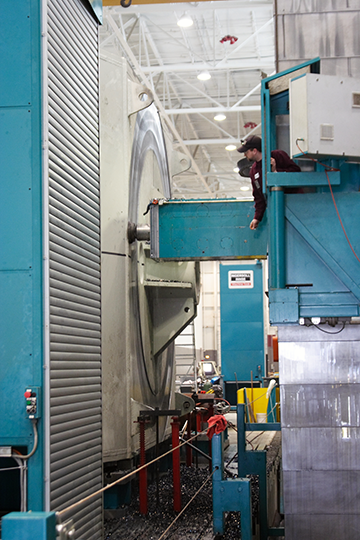 Aside from the multiple programming features of GibbsCAM, Mr. Brackemyer relies on Cut Part Rendering and Machine Simulation to check part finish, ensure no gouging or unwanted cuts, and confirm that tool and part motion are correct and not causing collisions.
Mr. Koehler says machining the steel truck frame can take several days. "The part sits on floor plates, separate from the boring bar," he explains. "We don't use a rotary table as we do on smaller, floor-plated machines because of the required size, so we flip the part to machine it."
Flipping the part, however, is no easy task. The rectangular frame weighs 200,000 pounds and measures more than 30 feet long, 15 feet deep and 8 feet high. Two cranes use welded lifting lugs to lift and move the frame. The machine operator and a utility man place angle plates and set up blocks to index and level the part. Thanks to GibbsCAM's support for right-angle heads, the shop has reduced the machining process from five operations to three. Spending less time adjusting the part for different operations saves nearly 12 hours of machine-idle time for each truck frame.
Using GibbsCAM to drive right-angle heads has also saved time on the boom. The boom, which connects the pulley system, cable and shovel, is more than 12 feet wide and nearly 70 feet long. While it doesn't require a great deal of machining, the part's vertical setup creates difficulties. The shop uses right-angle attachments to cut the whole part, although the component is so long it must be flipped once during the process. Still, the company realized time and manpower savings comparable to those it achieved on the truck frame.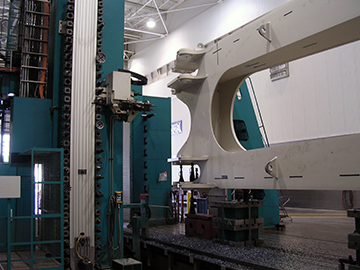 The company also relies heavily on GibbsCAM's Cut Part Rendering feature to verify tool paths before machining. Verification is important because Bucyrus shovels are often assembled thousands of miles away, and damaging the components would be costly. "Programmers are very confident that their program is good when they see the toolpath rendering," Mr. Koehler says. "We ensure we're machining only what we want and how we want before the program goes to the floor."
GibbsCAM assists the shop with estimating, too. The software's Reporter plug-in automatically generates a generic operations report. Bucyrus requires more, however, and uses a custom report developed by Mr. Koehler. Programmers extract all available information from the software into an Excel spreadsheet. Mr. Koehler says "We use it to create our complete tooling sheets, setup sheets and process sheets. Operation by operation, it shows how long it takes to make a component."
The programmers have customized functions for all 28 of the shop's machine tools. After creating or changing a program, they run it through the Reporter plug-in to generate setup, tooling and process sheets that perfectly match program output. Then, they update the routing system to reflect accurate setup and run times. The data is used to determine manufacturing lead time and component costs. "It works great," Mr. Koehler says. "This information is critical, and we obtain it straight from GibbsCAM without the need for additional operations or time studies on the floor."