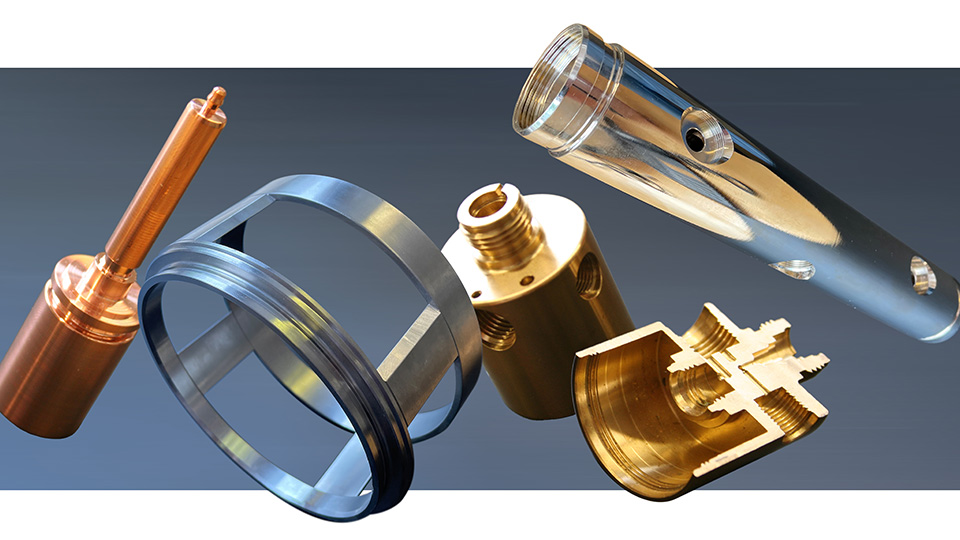 Urgent Matter: Non-Ferrous Metal
Download Article PDF
Since its foundation in 1968, SAFA GmbH & Co.KG from Arnsberg has been involved in the machining of non-ferrous metals. In its early days, turned parts for bathroom accessories and later brass gift items were the main products being manufactured, but now SAFA is a recognized partner and supplier of high-quality turned and milled parts for a wide range of industries. Today, Blue Chip manufacturers of household fittings and valve technology rely on SAFA's know-how, flexibility, and reliability most of all. Located in the idyllic Sauerland region, the company's 40 employees work three shifts, manufacturing a wide range of products from individual parts to large series. SAFA uses state-of-the-art CNC-controlled lathes and milling machines as well as sliding headstock lathes. GibbsCAM has been the CAD/CAM system of choice for CNC programming for over 15 years.

Though they also machine aluminum, steel and stainless steel, SAFA gained a premier reputation for machining non-ferrous metals such as brass. The special material properties of brass make it ideal for fittings, with machining requirements that are fundamentally different from tool and stainless steels. Florian Riese, Managing Director at SAFA, comments: "Tool wear, service life, and machine load can be virtually ignored. However, the trend towards lead-free or low-lead brass has significantly increased the special requirements for machining. The unique challenge is to get the chips away from the part." To remain ahead of the competition, SAFA has developed a technological advantage from its decades of experience in machining brass with the right combination of tool technology, cutting data, and lubricating oil or emulsion, in conjunction with the use of high-pressure pumps in the machine.
Special know-how for the machining of electrode copper
The latest development at SAFA is the machining of electrode copper, in which chip-breaking is much more difficult than with new types of brass. "We now have a good grip on the process, but in the beginning, we got our noses bloody," explains the young entrepreneur. "It was the high-pressure pumps that significantly improved the results, as well as a chip-breaking cycle provided by GibbsCAM." After extensive trials in cooperation with a major automotive supplier, the company was able to tap into electromobility as a new target market. "We manufacture large quantities of plug contacts for CCS charging sockets made of copper, which are installed in electric vehicles. This product is an excellent match for our manufacturing expertise, and our machinery, especially our sliding headstock lathes, since large quantities have to be produced from small-diameter bar stock with the highest precision."
Production
When you enter the SAFA shopfloor, you immediately see that the major focus is turning bar stock. The numerous machines, most of them no more than 5 years old, stand close together; almost all of them are equipped with bar loaders. The bar material is stored in the center of the hall to allow quick material feed to the machines. Right next to it is the programming booth with the GibbsCAM workstations. "Our programmers always need to be close to the action and to the machine. Experience has shown us that we do best with all-rounders in this position. Only those who know the peculiarities of operating the machines with demanding materials are able to create programs that run efficiently on the machine without long break-in times and trials." Another booth at the edge of production is used for part inspection, which is a high priority at SAFA in order to quickly identify and eliminate defects.
Quality assurance
In addition to high-quality surface finish, valve manufacturers place special demands on compliance with very tight tolerances. "The fact that we are able to meet the demanding tolerance specifications is due in no small part to the fact that we usually manufacture almost all parts completely on one machine, without repositioning and multiple setups."
Since more and more manufacturers, especially those in the automotive and aircraft industries, require corresponding inspection records and documentation for their parts, the decision was made to implement a MarShaft SCOPE 250 Pro measuring machine from Carl Mahr. The shaft measuring machine has a high-resolution CMOS matrix camera with an image acquisition rate of over 120 images per second which offers precise and fully automatic measurement of rotationally symmetrical workpieces in just a few seconds.
The machinery in the course of time
The former cam-controlled lathes have now been completely replaced by CNC-controlled turning/milling centers and sliding headstock lathes. For pure milling only operations, there are a number of 3-axis milling machines from Star, CMZ, Tornos, and Biglia.
The two automatic lathes from Star are the smaller SR-20R IV type A and the larger SR38-B, with an additional B-axis, which allows series production from bar stock with a diameter of up to 38 mm. Among other things, the majority of copper parts for the vehicle connectors are produced on these machines.
A total of four Biglia turn-mill centers are used for the production of valve parts. All machines are equipped with two turrets as well as main and counter spindles. Automatic part transfer from the main to the counter spindle is possible in each case. SAFA made a conscious decision not to install a third turret on the machines, as the additional unit would only have resulted in a minor productivity advantage with the existing product range. Special mention should be made of the Biglia 465 T2 Y2 - RBT2, which has additional, integrated robotics for blank feeding and finished part removal.
"The machines deliver excellent surface quality that require no grinding and only little polishing. Therefore, it is important to handle these parts carefully and store them individually. That's why we decided to use the robot," Riese explains, adding, "Careful handling of the finished parts plays such an important role for us that one of the next purchasing decisions will be additional robots to automatically unload the other machining centers as well."
Completing the line of modern CNC lathes is the CMZ TTL 66. Similar to the Biglia, the machine is equipped with two tool turrets, main and counter spindles, and bar feeders, and can run at 12,000 rpm for bar turning.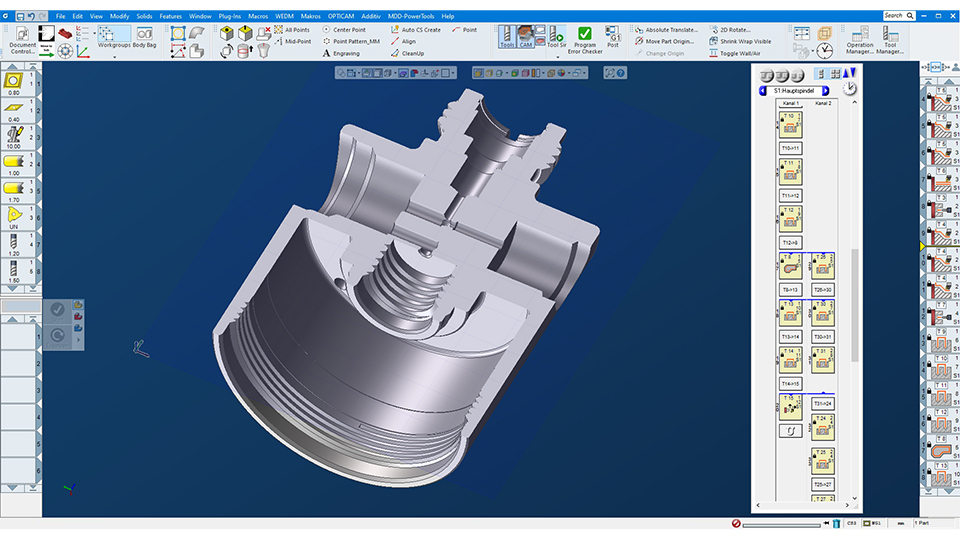 Up to 200 dimensions on one part
Machines equipped in this way prove their versatility and strength in the complete machining of parts, which have become increasingly complex and expensive to manufacture. The reason for the increased complexity of parts is clear; manufacturers are trying to combine functions that, in the past, were performed by several parts of an assembly into a smaller assembly or a single part. This saves weight, improves stability, achieves higher accuracies, and also saves assembly time.

The article drawing shown in the photo (Fig. 1b) shows how complex a rotating part (Fig. 1a) can become. The large number of dimensional shapes, fine details, and position tolerances have to be met in order to pass quality checking and satisfy the demands of the end customer.
It is not uncommon for SAFA to receive drawing data from customers in the form of a PDF file. If no CAD data is provided, SAFA does not use an extra CAD system, but instead recreates the geometry directly in the CAM system using the integrated CAD functionality of GibbsCAM. During this step, the machining sequence already develops in the programmer's thinking.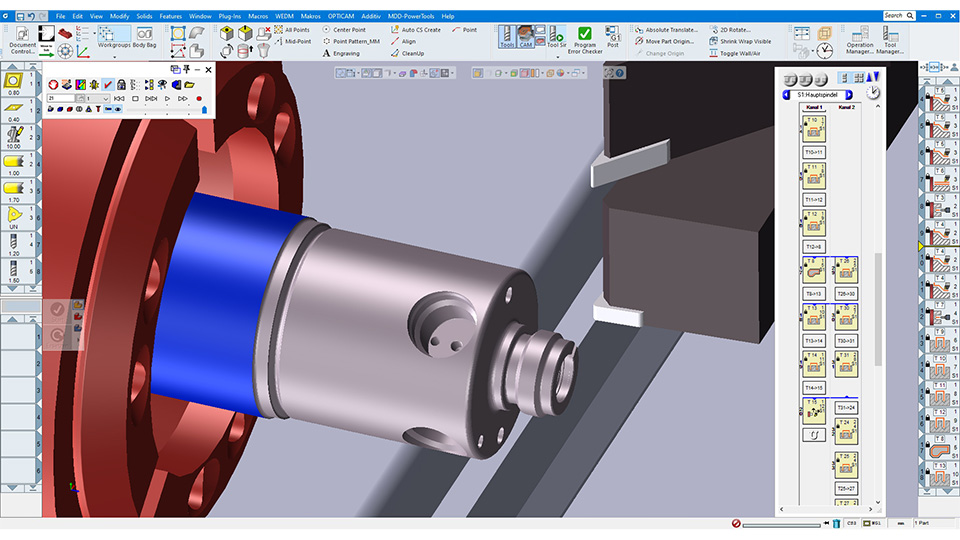 Growing with the requirements
Of course, programming highly automated machines is a factor that a manufacturing service provider should not underestimate. The choice of a CAM system needs to be carefully considered, since future requirements are difficult to foresee.
Florian Riese remembers: "I was still training to be a CNC machine operator here when we started looking for a new programming system. Our old system could no longer keep up with the increasing demands of production, and the support provided by the previous supplier at the time left a lot to be desired. I am glad that my colleagues chose GibbsCAM when they made their selection. Over time, I have evaluated GibbsCAM from many different angles. First as a newcomer to CAM and NC programming, later as the person responsible for production, and for the past year as Managing Director. There has not been a day when we have regretted the decision to choose the product. If we have ever run into an issue, we have always been very satisfied with the support we have received from the GibbsCAM team."
Certainly no one at SAFA was thinking about manufacturing copper parts for e-mobility 15 years ago. Even the idea of long turning was not considered until the decision was made to use the new CAM system. "Together with the GibbsCAM team, we have been able to master every new development in our business environment. We have always been able to rely on GibbsCAM to provide us with a powerful programming system, even for our new machines, and to supply us with the postprocessor that maps all the performance features of each new machine," says Riese. "We also receive a competent answer to our questions at any time, which is very important, especially for our Speedturn business, where we supply our customers with parts within 24 hours. We can't wait long for a solution to a problem there.

Exact machine run times in advance
For SAFA, there is another important performance feature of the CAM software that is crucial to operations. Florian Riese explains: "GibbsCAM is already enormously important during the quotation process when setting prices for the parts to be produced. GibbsCAM gives me a very accurate estimate of machine run times. When programming the machine, it literally comes down to the second for large series. Only with a realistic estimate of the effort involved can I submit a quote in line with the market that will get me the order and let me deliver at a competitive price."
Conclusion
For a machining service provider like SAFA GmbH & CO.KG, it is existentially important to be able to be agile and react quickly to market requirements. This applies to the selection of machines above all, since each machine is only designed for a certain spectrum of parts. Productivity, specialization, and the range of services must be weighed against each other.
Over the years, SAFA has repeatedly made important and correct decisions in order to be the first choice for its customers when it comes to fast and flexible delivery of high-quality turned and milled parts. The company's success has proven that the Arnsbergers are right and a further expansion is planned.
The fact that the company has remained with one CAM provider over such a long period of time, despite all the changes, speaks volumes for GibbsCAM's exceptional adaptability to new requirements. In other words, a CAM system must grow with the requirements of a company. For the future, SAFA is already considering adding a 5-axis milling machine to its fleet. "We've already had experience of programming 5-axis milling machines with GibbsCAM a few years ago as part of a university project. We know that we are in good hands with GibbsCAM in this area as well."
SAFA
SAFA's goal is to supply customers quickly and comprehensively. With a total of 40 employees, SAFA produces turned and milled parts from steel, stainless steel, aluminum, titanium, brass, red brass or copper in Arnsberg, Sauerland. The company covers the entire spectrum from batch size 1 to large-scale production.
Customers include the fittings, heating and sanitary, automotive supply, hydraulics and pneumatics, measurement and control, mechanical and plant engineering, electrical, medical and aerospace industries.
www.safadreh.de
SPEEDTURN
The SPEEDTURN service always comes into play when there is a "fire" at the customer, i.e. when a production standstill due to missing parts is imminent. SAFA manufactures and delivers missing parts with SPEEDTURN within 24 hours.
The SPEEDTURN team specializes in immediately integrating rush orders into the ongoing production process. Thanks to selected partners, SPEEDTURN is also able to procure required input material at short notice, if it is not in stock. Machines are set up by skilled personnel without delay. After completion and final inspection by quality management, the finished parts are immediately packaged and delivered to their destination by courier.