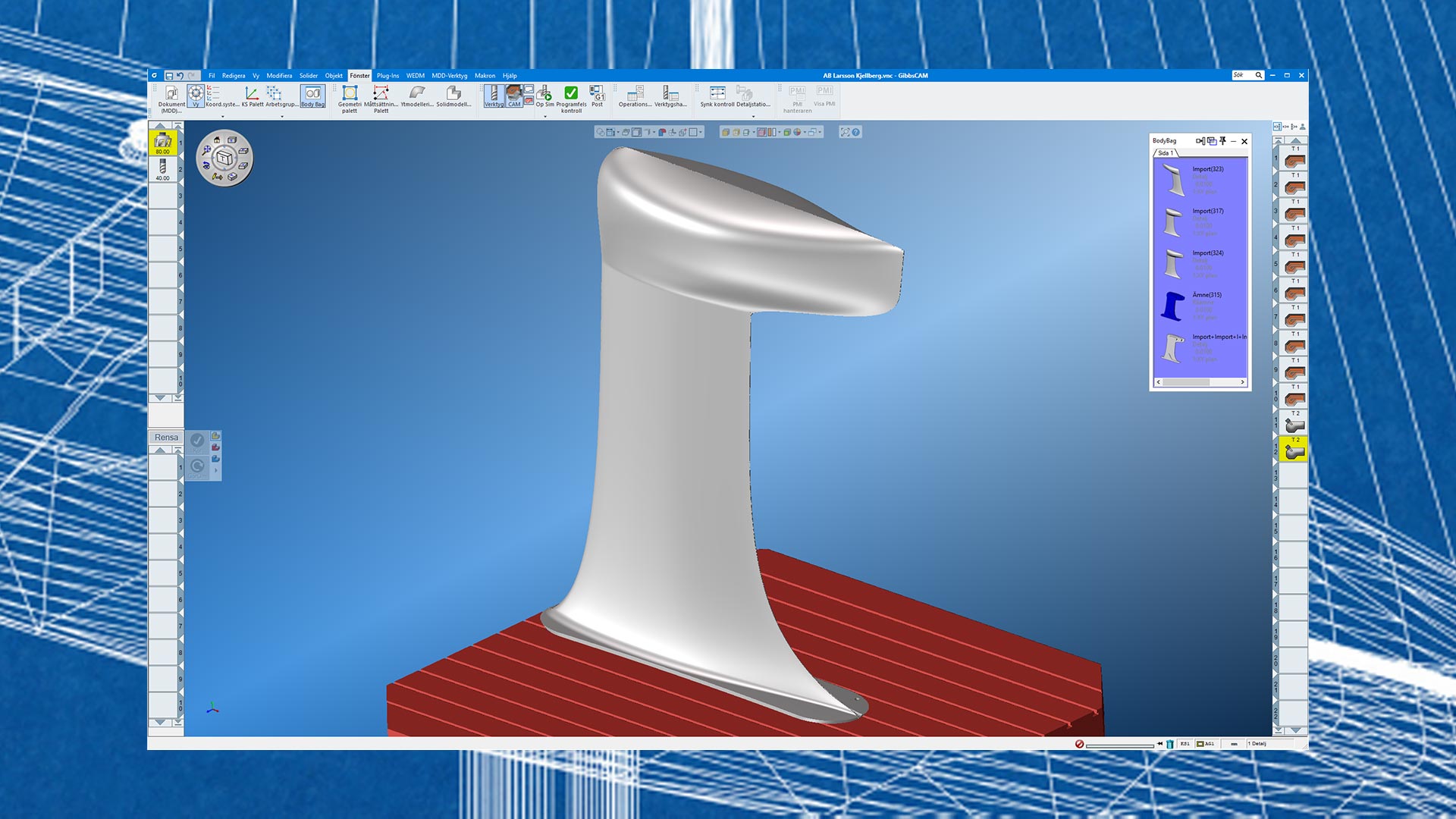 Larsson & Kjellberg Moves Mountains (of Steel)
Heavy Steel Manufacturer Embraces 6-Axis Digital CAM to Move Mountains
Download Article PDF
Out of 12 tons of steel and 6 tons of chips comes a thing of beauty -- a 6-ton keel for a reproduction 1901 sailing ship -- programmed with GibbsCAM. When Larsson & Kjellberg decided to invest in an advanced CAD/CAM system, one of the first projects was to manufacture the steel keel for the classic "Spirit of Garm VI." The original boat was designed and built by mechanical engineer Gunnar Mellgren and known as Sweden's fastest sailing boat. It was the winner of many established events including Kieler woche, the world's largest regatta, and was also the winner of the Gotland Runt offshore race in 1907. Following the reconstruction and final launch in 2021, the boat was reentered into the latest Gotland Runt race, 115 years after its first victory.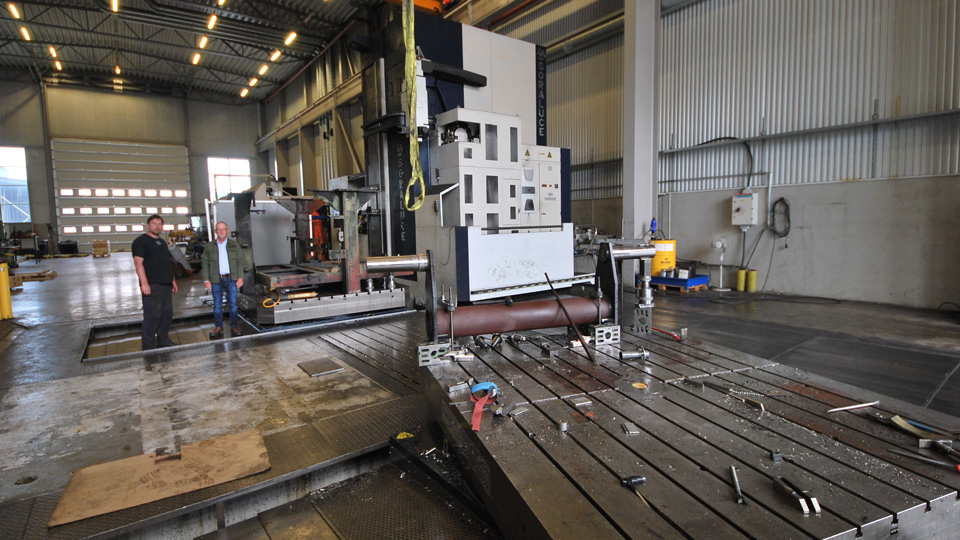 Swedish metalworking company AB Larsson & Kjellberg has a 140 year history in metalworking in the port city of Nyköping, for very large metalworking. Witness to years of changes in technology, and global epidemics, L&K has emerged successfully as a modern metal manufacturer. One positive decision was to upgrade to GibbsCAM for CNC manufacturing.
This switch allowed them to program in 5-axes for their Soraluce FR12000 and to process huge parts that were previously impossible -- such as a beautifully crafted 6-ton sailboat keel. Now the L&K team digitally processes both large quantity production parts, as well as smaller production parts, for a wider base of customers.
No newcomer to metalworking, AB Larsson & Kjellberg was started as a smithy in 1880 in one of Nyköping's oldest buildings. This historical smithy has now been in continual use for almost 200 years. In more recent times, the machine shop at Larsson & Kjellberg has gained a reputation for heavy manufacturing that is unique for a Swedish metal contractor. L&K supports the local heavy engineering industry including the global steel company SSAB, as well as the marine industry in this established port city.
Today L&K is a complete partner and can deliver complete solutions from drawing to installation. The production in the welding workshop and the machine workshop is adapted to be the best at large and heavy, but with a focus on the highest quality.
Controlling a "Monster" Milling Machine and More
The flagship of their machine shop is the SORALUCE FR-12000 milling machine that has two round feed tables with a load capacity of 60 tons each. The machine has a magazine with 80 tool positions. The machine's ability to turn the feed beds allows controlled movement on 6 axes, which places special demands on both CAM program, postprocessor, and supplier. Now using GibbsCAM software, L&K can control all 6 axes of the machine for a more efficient process that is also safer for the crew.
While L&K machines large structures up to 100 tons, they are also experts at turning parts up to 6 meters long, and handling complex assemblies. The machine workshop also holds twin MTE bed mills and twin Quaser milling centers, in addition to four lathes, supported by overhead 100-ton cranes.
The sheet metal and welding workshops combine Messer CNC lasers, Ermak shears, Safan pressbrakes, roll machines and band saws, with three welding halls. L&K is a full-service operation including assembly, blasting and finishing, and industrial painting.
Advanced Digital CAM Maximizes Safety, Efficiency and Productivity
The level of complexity compounded by the sheer weight of the metal structures helped drive the push toward a more sophisticated CAD/CAM solution. "We evaluated the market and with my previous experiences of using GibbsCAM at other workshops, I knew it had the features we were looking for. Another big plus was the support provided by local reseller Fructus, as well as the competence and experience of their team," claims Technical Manager Rickard Stenholm.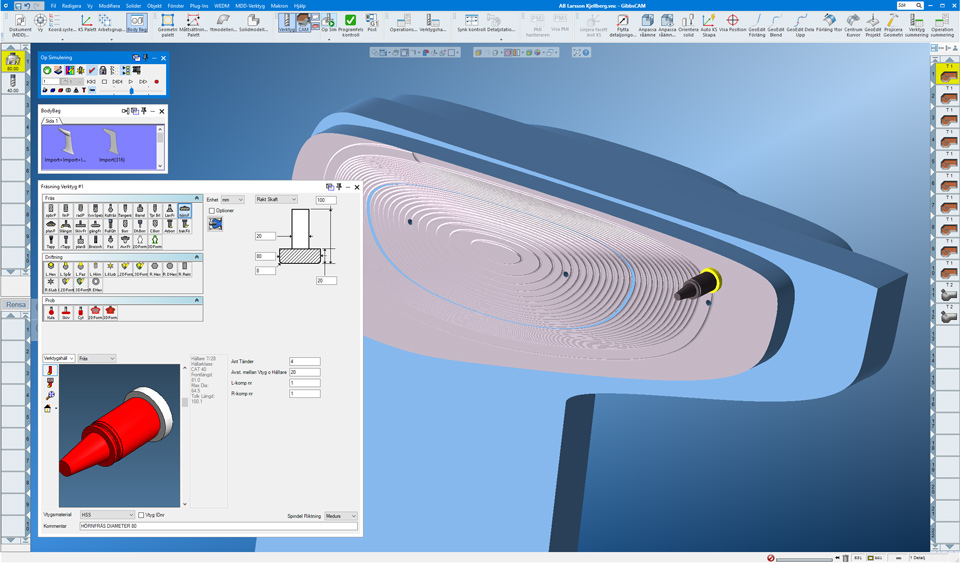 The software is feature-rich and the CAM capabilities are extensive. Simultaneous 4- and 5-axis milling can be added in GibbsCAM for both milling cutters and more advanced lathes. These modules add a variety of milling strategies that make machining more efficient and significantly simplify the programming of complex 3D geometry.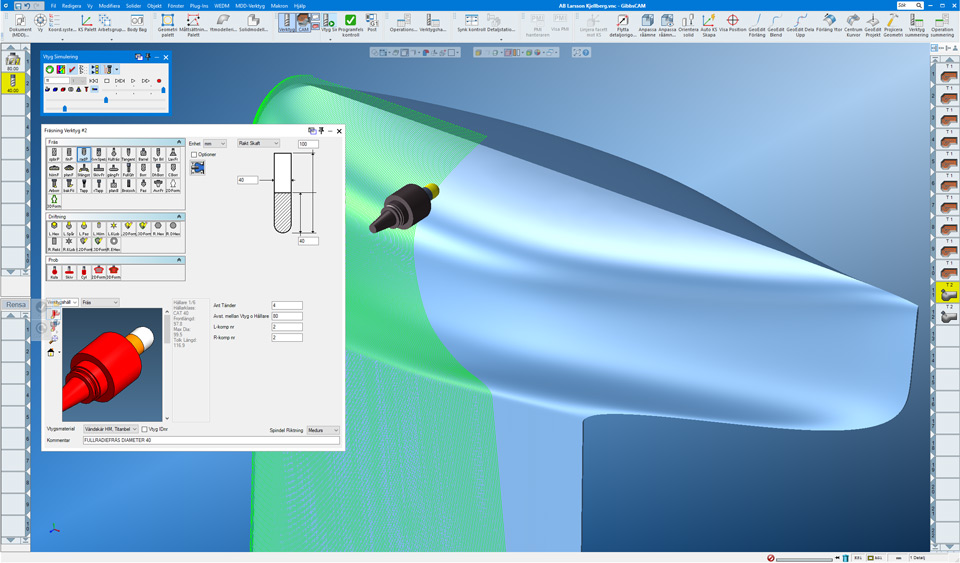 Sophisticated 4- and 5-axis CAM software has given Stenholm and fellow machine operators a smooth entry into advanced machining. The team efficiently utilizes the true power of the milling machine and safely controls all movements to avoid clamping fixtures.
Q&A:
What are some of the challenges that you face in manufacturing these heavy and often difficult forms?
Our projects are about details and components that are "always" large, heavy and complex, such as pump housing halves, large molds, shafts and lifting yokes, etc. Rigging and programming is always a challenge for physically large details. The proximity to SSAB of course comes into play and is a customer, but in general it is about being able to offer Swedish industrial production of parts up to 100 tons to a market segment where we are a leader today and already have great expertise.
What advantages do you see in programming with CAM for the "6-axis" Soraluce FR-12000 milling machine?
In order to be able to efficiently process large high value parts, we need secure processing processes for our operators. The human factor is always a concern especially when it comes to complex multi-axis machining, but that bit can be removed with the help of a well-suited CAM solution.
You have many years of experience in CNC programming, why did you switch to GibbsCAM?
We evaluated the market and with my previous experiences of using GibbsCAM at other workshops, I knew it had the features we were looking for. Another big plus was the support provided by local reseller Fructus, as well as the competence and experience of their team.
Prior to purchasing GibbsCAM 5-axis milling, did you have this capability in your previous CAM solution?
No, previously we had a CAM program from another supplier that was not as advanced and sophisticated as GibbsCAM. We could only drive 3-axis with that CAM solution. This meant that we had to devote a lot of time and resources to repositioning the part. It was a big challenge for us when we tried to work in a multi-axis environment, in combination with the round table. It was not always a given which of the axes should move at the same time. Now we have invested in a software solution that helps us find the right one, and above all save time and avoid costly mistakes.
Focused on Expansion and Faith in the Future
Catalyst and CEO Mattias Skeppstedt reinforces the digital strategy, "Today, everything is built around computer-controlled production, and we need to continue our path towards digitizing, structuring and solidifying our procedures. Incremental improvements are key, and to be more efficient, we also need to digitize other areas of the business, and we have already started that process." Speaking of their commitment to their niche in the market, Skeppstedt vows to "strengthen our offerings in heavy processing because we will still be the best at large and heavy production."
AB Larsson & Kjellberg sees potential on expanding beyond regional markets and has started a branch into Värnamo to offer CNC machining for larger quantities and much smaller detailed geometry. Following the pandemic, L&K is experiencing a rapid rebuilding with major projects underway. Skeppstedt concludes, "The recovery is gratifying and shows that we have chosen the right path."
Original article courtesy of Maskinoperatören magazine, Sweden