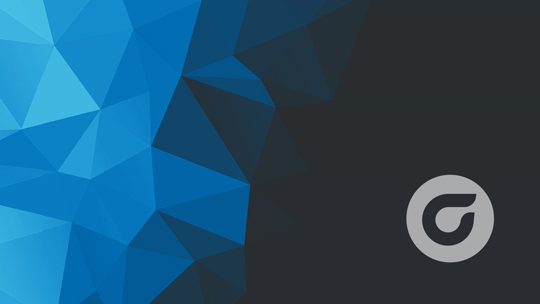 GibbsCAM Programming Meets Need for Speed
Ed Pink founded his business in 1959, gradually expanding it into the 23-employee R&D company that Ed Pink Racing Engines (EPRE; Van Nuys, CA) is today.
Operating from a 15,000 ft2 (1394 m2 ) facility, EPRE is well-known in racing circles or, more accurately, on racing ovals, for high-performance engines and components. Among its many clients have been GM, Ford, Nissan, and Toyota.
Salient projects include turbocharged Cosworth and Buick V6 engines for Indy car racing, and turbocharged Porsche engines that have run in the 12-hr Sebring and the 24-hr Daytona sports car races. EPRE's products have been in nearly all the major series including the Indy Racing League, Champ Car (formerly known as CART), USAC, and NASCAR. EPRE has taken stock engines that have been in production for many years, and made them run at 10,000 rpm, with nearly 800 hp (597 kW).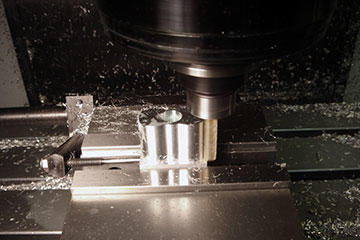 All racing organizations impose dimensional and weight restrictions on cars, engines, and components. Ed Pink, EPRE founder and owner says, "NASCAR is the most diligent enforcer. Their rules make it difficult for anyone to gain an edge, but they make good business for us."
EPRE's core business is R&D, designing, testing, and developing high-performance engines and components for racing. Production of the noncustom components that are generally used is outsourced. They include camshafts, connecting rods, engine bearings, pistons, valve trains, water pumps, dry-sump oil pumps, and cooling, air-intake, ignition, and exhaust systems.
It was in making prototypes that EPRE encountered an apparently insurmountable challenge. Although its machine shop, occupying about 7500 ft2 (697 m2 ), was well equipped with conventional machines, (three lathes, four vertical and two horizontal mills, and a tracer mill), EPRE found it lacked equipment to manufacture parts on a timely and consistent basis.
Traditional reliance on outsourcing became a very frustrating problem. "It's tough to find reliable shops able to meet your quality and delivery requirements. When you do, they sometimes charge a prohibitive amount. Being held hostage many times, we decided we needed a change. We had to find a better way to machine our parts," Pink explains.
Armed with a problem and little knowledge of CNC machine tools, Pink's team investigated several machines, selecting a VF3 VMC from Haas Automation Inc. (Oxnard, CA) with Haas CNC control. To take full advantage of the machine, and compress the prototype-to-production cycle, EPRE needed the right software.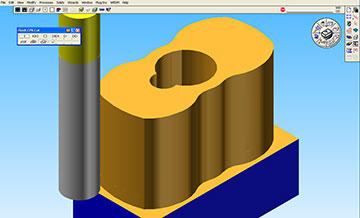 "We attended the WESTEC Show and looked at countless software packages as complete novices," Pink laughs. "Most of the vendors treated us as a nuisance, except Gibbs and Associates [Moorpark, CA]. Bill Gibbs, himself, saw us as serious buyers, educating us, showing us the software, and answering our questions. Their patience demonstrated that they were likely to provide the service we would need as we moved up the learning curve," says Pink.
Mastering GibbsCAM was easy, according to Mike Johnson, the EPRE design engineer whom Pink credits for most product development. "We use SolidWorks almost exclusively for design. I can send the model to Doug Nealy, our programmer and machinist who loads it into GibbsCAM, and it's nearly ready to go," says Johnson. "GibbsCAM is very easy to use and very accommodating. We can literally load a part and run. The conventional machines are slowly gathering dust, and our scrap rate is very, very low."
GibbsCAM enables reading SolidWorks models directly, and its associativity between part geometry, processes, and toolpath accommodates most incremental changes in the model. A GibbsCAM plug-in for SolidWorks allows models to be transferred directly from SolidWorks to GibbsCAM.
AM's process simulation, and we take a very careful look, to check for potential problems and see what shortcuts we can take," Johnson explains. "Often, you see where changing a machining process or tooling will save time. We've cut our scrap rate, our costs, and delivery times significantly.
The greatest benefit of GibbsCAM has been the ability to machine a new component design, take the component to the test lab, check its performance, and quickly make modifications. "Before, we would have to wait weeks. Now I can have a perfect functional part, tested and ready for production, within a couple of hours," Nealy says.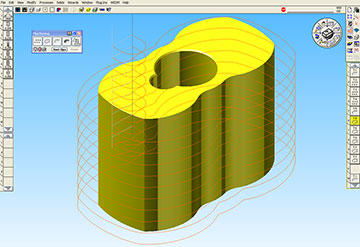 An unexpected benefit is the ability to machine parts from billet, parts previously made through EDM or casting. One of many examples is a rotor, a key component of a new dry-sump oil pump designed by Johnson and now in the final stages of development for several NASCAR racing teams.
The pump is intended to improve racing engine oil management and lower power consumption by reducing drag and resistance. Unlike most other dry-sump pumps, EPRE's design uses two rotors in each scavenge (or retrieval) section, keeping gears only in the pressure section. The Pink team concluded that rotors scavenge more efficiently, and generate a high negative pressure in the engine crankcase, which helps pull oil off moving parts that don't need lubrication.
Although the pump contains some unique and EPRE-patented parts, Pink claims it's not a re-invention of the wheel, but merely optimization through applied knowledge and expertise.
Even so, applying their knowledge was not easy. The former rotor production process would encompass four vendors and begin with 2" (50.8-mm) thick, 2' (0.6-m) square aluminum plate, which would be sent out for Blanchard grinding to achieve flatness. Then, 100 two-lobe rotors would be laid out on the plate, which was sent out for boring center holes on the rotor layouts, and drilling and tapping a 10-24 hole on the end of each lobe. Finally, the plate would move on to an EDM shop to form individual rotors, returning as 20 bars, each holding five rotors.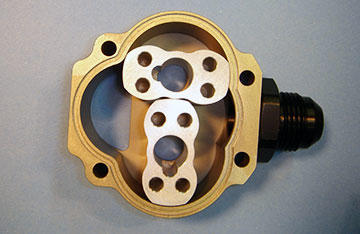 Each rotor would be cut free, and each rotor end would be partially machined. Then a half-cylindrical groove would be broached into the edge of the center hole. A matching groove would be EDMed into the separate rotor shaft, enabling the placement of a steel dowel to lock the rotor onto the shaft. "At the end of this laborious process, four months would have passed, and we would have $100 invested in each rotor," says Pink.
One of the new Ed Pink Racing oil pumps for the NASCAR V8 race engines has five scavenge sections: four serving two cylinders zones each of the crankcase and one serving the upper section of the engine. For this one pump, the cost of ten rotors alone was $1000, but Pink is quick to emphasize that the delays were as bad as the cost.
Now, EPRE uses GibbsCAM and its three-axis CNC VMC to make rotors. Starting with a square billet, the CNC does the complex profile on the outside, bores the hole through the center, drills and taps the 10-24 holes, and completes the rotor by boring the dowel pin groove next to the center hole.
Pink is elated with the result. "To get 100 rotors from our outside multiple vendor process would take us four months, from start to finish. Now we make 100 rotors in-house in a week. GibbsCAM and the CNC let us do that. We use the rotors in our other pumps with great results. The in-house produced rotors are more dimensionally precise resulting in more scavenging performance of the pumps by reducing operating clearances. An additional benefit is our ability to modify the rotor lobe shape, bench test the new design, and then incorporate the change into our in-house production."
But what about cost? Says Pink: "This shattered my experience, which was that, to make a component better or faster, it costs more. Not now. We cut the cost of our rotors from $100 to under $25, saving $750 dollars per pump. We eliminated previous outsourcing combined with long man-hours on conventional mills, and we're making better, more accurate parts, and doing it a lot faster."
While EPRE's conventional machines are increasingly idle, Ed Pink and his team continue to look for new, exciting projects, hoping to generate sufficient business for dry-sump oil pumps and other components, "to add more CNCs to our arsenal of one, so we can do our own production. There's only so much one machine can do…even driven by GibbsCAM…even running 24 hours a day."