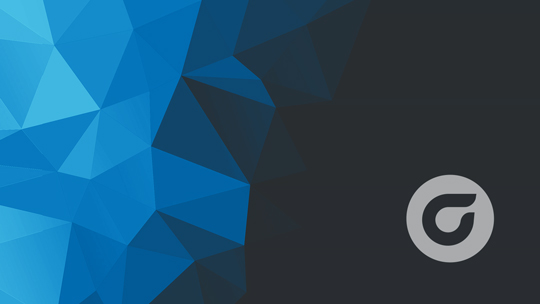 GibbsCAM: Winning in the Clutch
Chris Nachtmann's introduction to machining was at his parents' business, where he had worked, off and on, since childhood. At the same time, he was getting exposure to drag racing from his father, a life-long participant of the loud, heart-pounding sport.
Nachtmann's inherited love of drag racing and its mechanical aspects led him to become a clutch specialist for Alan Johnson's Top Fuel team from 1997 to 2002.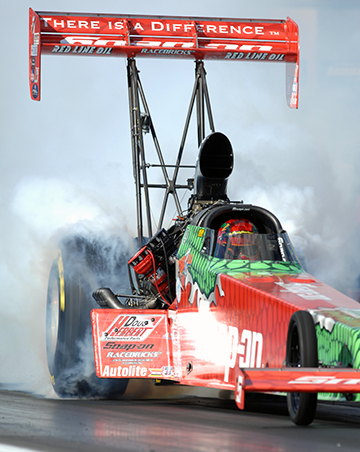 Later, while running his parents' business, he tinkered with clutches. To handle new jobs for the company, he learned NC programming with the aid of GibbsCAM Production Mill.
"It was easy to learn, and helped me save the business," acknowledges Nachtmann. "I learned to model and machine everything with wire-frame geometry and really cranked out parts."
Although he had mastered GibbsCAM quickly, he waited for the opportunity to use it for a clutch design that would address the "plague of clutches."
Nachtmann faced a high-tech plague. First, the 8,000hp engine's change in rpm caused the standard titanium pressure-plate covers to deflect, showing measurable "dishing" of as much as 0.050" in 10 to 15 runs. Nachtmann knew that covers required greater rigidity, and that adding thickness and support ribs would solve the problem.
Second, an old track myth dictated that "memory" induced warp in titanium. That was one of the metal's characteristics Nachtmann wanted to investigate. He worked with a metallurgist for three months. They dispelled the blame on memory and, together, developed a high-temperature alloy much stronger than the titanium in standard use.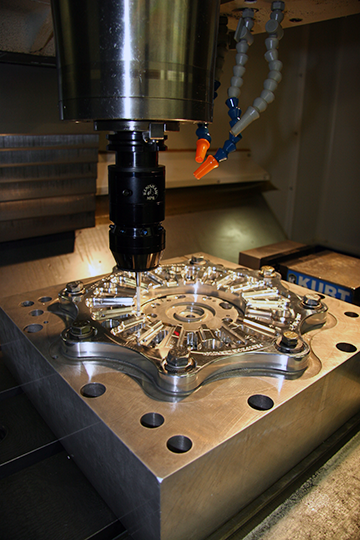 In 2003, when a racing team approached Nachtmann to develop a clutch, he was prepared. He modeled the clutch in wireframe geometry.
"Just lines, arcs, and toolpaths with GibbsCAM Production Mill," he says. "It worked great, and it got my ideas on the track. After 300 runs, our covers show warping of two thousandths or less."
Of the components he has made, Nachtmann says, the pressure plate cover was the toughest. "There are lots of pockets, radii, and tight tolerances to making the ribs, and the lever-slot depth is really critical. If it's different from cover to cover, the levers will sit higher or lower. A tiny difference will change or disable clutch performance and cause the dragster to 'smoke the tires at the hit' of the throttle."
As "the clutch guy" on Johnson's crew, Nachtmann hated unpredictable performance. "That's why I'm meticulous in maintaining lever-axle depth across covers," he explains. "Crews are the driver of the Snap-on Tools dragster – and now a regular customer – had encouraged Nachtmann to move, offering the use of the 8,000-sq-ft facility where CNC Performance Engineering now resides.
"I love machining," says Nachtmann, "but for many years I've believed that a company needs a product to survive. I just didn't know what mine should be. Here it was, staring me in the face."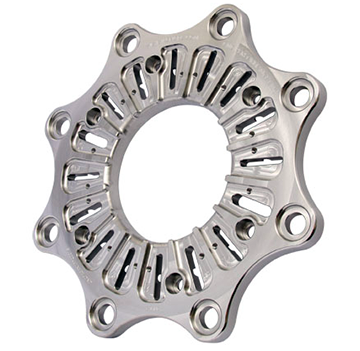 In his new facility, he pursued clutch development in earnest, applying what he had learned from his first design to develop a second. "Production Mill's wire frame," he recalls, "worked really well, but it became limiting. I kept thinking, 'If I could ramp in with a ball end mill and make smooth transitions here, I could really improve strength and aesthetics,' but I couldn't do it."
Although his first generation clutch cover was better than others, it was so rigid it would crack after many runs. The walls of the ribs were square against the bottom of the pockets, providing little protection from stress. For the second generation, he filleted along the edges to add strength, but the cover lacked aesthetics and required hand blending to achieve proper lever clearance. Additional handwork is the industry standard to get proper lever depths, but this troubled him.
"It's ridiculous to spend 15 hours machining a cover and then rework it by hand," he says. "But I had no other way."
At the same time, he faced another design challenge. Concern for safety was driving rule changes, including the use of stronger tires. The heavier tires and changing track surfaces caused crews to run engines harder, pushing demands on components. Nachtmann heard speculation about adding clutch levers – a big concern for him because he understood the ramifications, which he could not easily address. Going from 16 to 18 levers required adding holes around the cover, which decreases hole-to-hole distance, potentially compromising integrity.
After two generations of clutch design, he had hit the wall. He needed suitable software for further development. So, in late 2006, Nachtmann upgraded to GibbsCAM's full 3-D package, SolidSurfacer. To him, it was a leap as wide as moving from conventional machining to CNC, and from 2-D to 3-D CAD.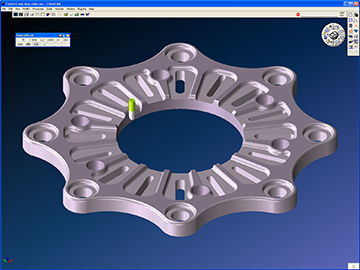 "SolidSurfacer gave me huge capabilities," he explains. "I tackled the lever clearance problem, and created surface blends ramping into radii that conformed to the shape of the levers. I output the toolpath and machined pockets to seat the levers perfectly. That fixes strength and aesthetics at once. Crew chiefs love using off-the-shelf levers without having to modify a thing. The covers are perfect. What was nearly impossible is now easy."
Today, Nachtmann applies blends to all of his covers as standard practice, without recreating them or the part model. "If someone wants my first clutch design," he says, "I can take these surfaces, put them on the model and leave the rest intact. Alone, that function has saved us a lot of time, and the covers are far superior to earlier generations."
Equally astounding were improvements in productivity. Surface machining immediately eliminated a lot of handling, multiple fixtures, and form tools. "Form tools?" he says. "My form tool is a quarter-inch ball end mill. There's a lot you can make with one of those."
SolidSurfacer easily solved the addition of levers as well. "We had to maintain minimal distance between holes to keep from weakening the part," Nachtmann says. "GibbsCAM's Interrogator and Profiler functions let us see distances across different part features. You can slide it around, and measure cross-sectional thickness anywhere. That made moving holes and features for the extra levers really easy. Listening to crew chiefs and using SolidSurfacer enables us to innovate and be the first to meet customer needs."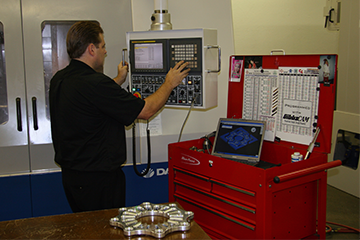 Part visualization also helped – and not just in design and engineering. Physical prototypes, which were made for customer review and approval, were eliminated. Now, they are virtual. Nachtmann saves the GibbsCAM modeled part in Parasolid format, reads it into SolidWorks, and generates an eDrawings file for his customers.
With eDrawings Viewer, a free download from SolidWorks, "my customers can rotate a part in any axis, view it from any angle, and do everything but touch it," he says. "I heard the crew's comments the first time I did that. They thought it was awesome. They got involved in development, and I got immediate feedback, without waiting for changes or the green light to produce."
With the solid business gains he has made as a full-service production business and clutch maker, Nachtmann is optimistic. The majority of his work steadily accounts for more than half of the revenues. Still, overall business doubled in the second year, all attributable to clutch business, which has grown so fast that it may equal his traditional business this year.
"That's exciting," says Nachtmann, "I've completed my third-generation clutch, and I don't even try to sell it. It sells itself."
Nachtmann makes the flywheel, pressure plate, pressure-plate cover and facings, (steel wear parts that mount on the flywheel and pressure plate). He is pleased with the durability of his facings – which last nearly 10 times longer than others – although this durability does reduce sales volume.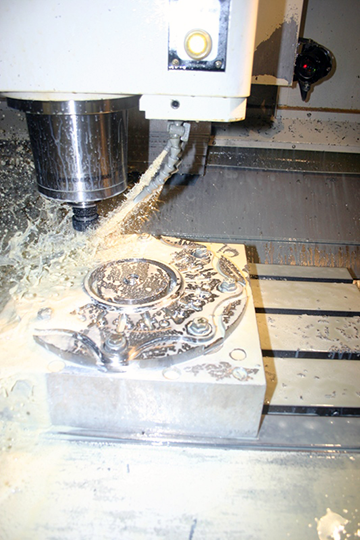 Each team carries four clutches, plus spare parts, so Nachtmann's "extended- wear" facings don't really cannibalize his business. He credits minimal wear to forethought in design and a good manufacturing process, which result in retained flatness. With 23 races per season, plus testing, the typical team replaces facings after two races, while CNC Performance customers make it into the 10th race with the first set.
"Customers go through two sets a season, if they do a lot of testing, while others go through nine or more," says Nachtmann. "It's one reason our clutch sells at a premium. I won't produce what I don't believe to be the best."
Nachtmann looks forward to increasing production business and making more clutch components, including clutch levers, lever axles, and clutch stands. He also has ideas for improving the clutch in its next generation.
"It's pretty wild design stuff," he claims. "GibbsCAM SolidSurfacer has taken us to a whole new level, and there's no way I could achieve such rapid product design without it. It's just easy to use. It makes my job easy. Gibbs and their software helped me succeed in a competitive market known for speed and accuracy."