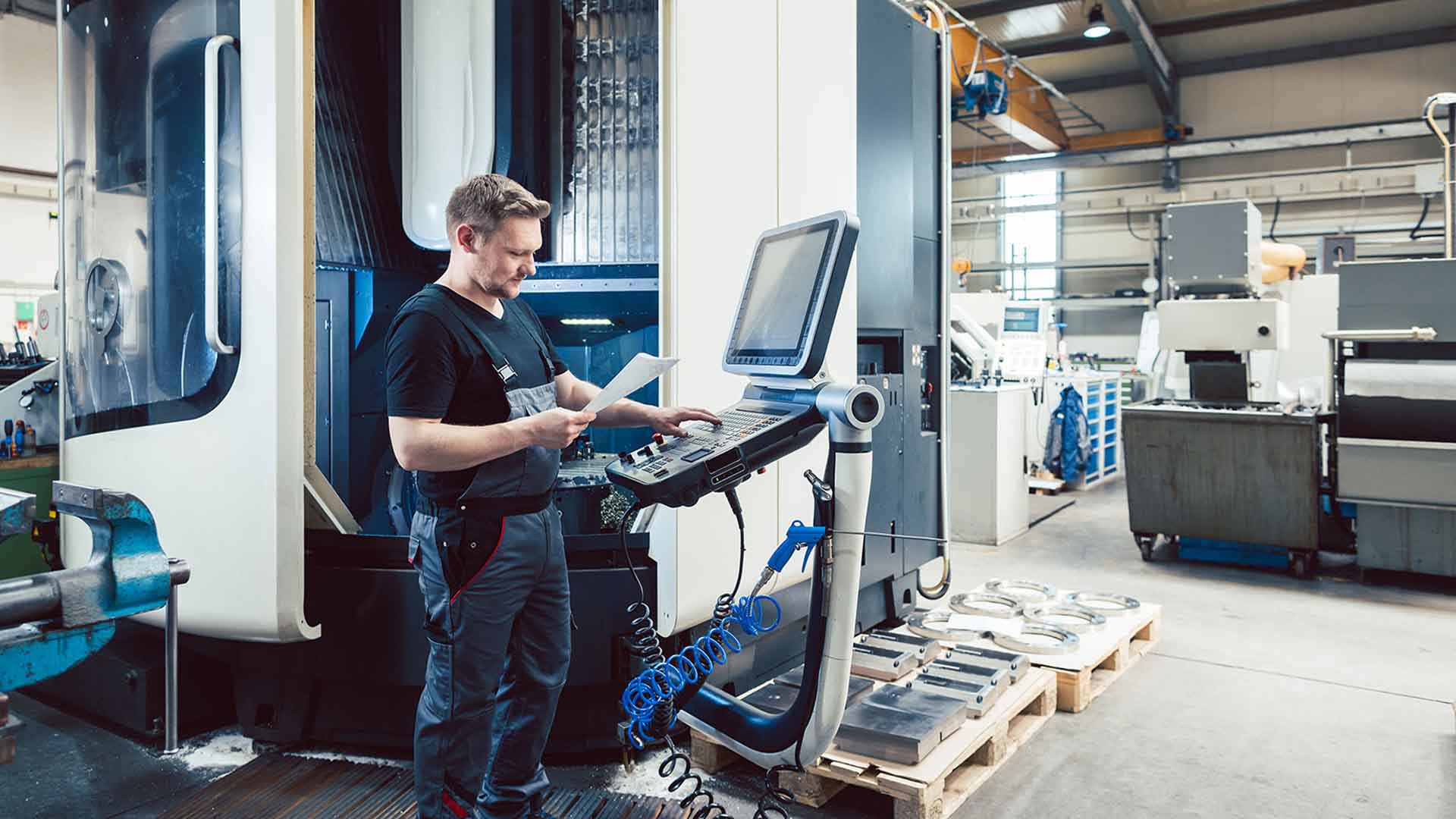 Job Shop Pins Growth on GibbsCAM
From a failed business to a rousing success, entrepreneur Fred Schule has learned his lessons well, albeit the hard way.
At age 25, Schule bought his first Fadal and opened up a shop. However, without adequate software and other systems, he was unable to program fast enough to accept jobs and the business failed.
That was then. This is now, 16 years later. After work-ing for three different companies, as vice president and general manager at the last two, Schule was confident that he knew how to do it right. In 2004, he sold everything he had and started Cobalt Enterprises in his garage.
"I had learned what to do and, more important, what not to do," he says. "You treat suppliers like customers and employees like family, then provide the best equipment possible for your employees. There is less to man-age and, with that as a business model, our parts are our business cards."
With a used Fadal 4020 HT and a Haas 20 × 50 VF4, JobBoss and QuickBooks software, GibbsCAM software, Cobalt started machining in September 2004. By the end of December, Cobalt had done $69,000 in business, and was moving fast.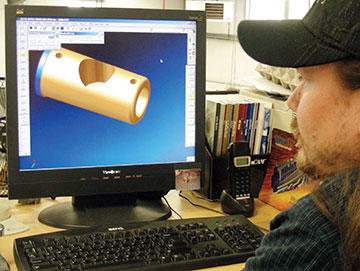 In little over three years, the business has grown to $2.4 million a year, a result which Schule attributes to "buying the right assets out of the chute—quality software, machines, and systems to accelerate the shop's growth."
Cobalt's business model includes standardization—everyone using the same tools and systems, all machines equipped with the same controls, good people trained in-house, and technology kept current and maintained. This allows Cobalt to do short-run work and not turn work away for lack of ability or capacity—which are also all part of his business model.
To start, Schule hired experienced people. He sold his two machine tools a year after opening shop, however, and bought a three-axis Mori Seiki NV5000 with an SMW fourth axis, adding another module of GibbsCAM. The combination worked well. In 2005, with only four people, the shop did $385,000 in business. Growing quickly into a 5000 ft2 (464 m2) facility, Cobalt more than doubled its business in 2006, with $890,000 in revenue.
As examples of the Cobalt guidelines, Schule begins with one person he did not exactly train. "A year and a half ago, I brought in Zach Johnson, our senior programmer, who had nearly a decade of machining and programming experience. "Although he'd used other software, I told him he had to use GibbsCAM because I wanted standardization. He took the manuals home over a weekend, and taught himself. He's a wiz with it, and he's training others."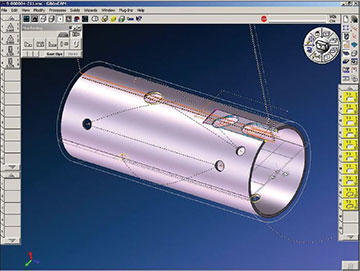 Johnson came to like the software and its time-saving tools. "That motto Gibbs uses—by machinists, for machinists— they're not kidding," he says. "There are so many little ways to do things, and it all makes sense."
In two days, Johnson taught another machinist who had "zero programming experience," to model in SolidWorks and program in GibbsCAM. "His first part, a hog-out with two pockets and four-axis work, was great. He was more surprised than I. If you know how to machine, and you have computer basics, you can program with GibbsCAM."
A recent acquisition, a Mori-Seiki NL 2000SY, with two spindles, Y-axis, live tooling, tool setters, bar feeder, and parts catcher really tested their programming skills. "Until then, we hadn't done turning work. It was intimidating," says Johnson. "We added the GibbsCAM MTM module and that eliminated our fear."
Johnson approaches GibbsCAM MTM as either milling or turning, and the software combines the operations into a single program. "I model in SolidWorks, which for me is the most difficult part, then load the model in GibbsCAM, and go straight to machining. I was making good parts in three days," he says.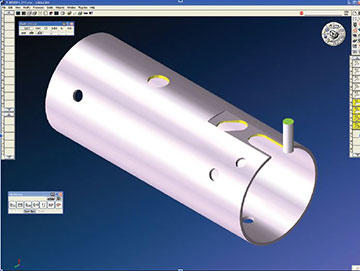 The software and Mori Seiki machines allow Cobalt to take on complex, short-run work. Johnson describes a job contracted and delivered in one day. It required modeling and turning four different sizes and configurations of small parts, about 5" (127-mm) long, and from 0.625 to 1.75" (15.9–44.5 mm) in diam. He made them from bar-fed aluminum tubing, turning the ID and OD down to a wall thickness of 0.040" (1 mm). The parts were finished with drilling and rotary milling, and then slit sawed off the stock.
"I used the GibbsCAM MTM software, which has a lathe button and a mill button," he explains. "I select one for turning, change my work from the X-Z plane for turning, to the Y-Z plane for milling, and select the milling button. The G-code for the switch is output automatically."
One tool on which he relies heavily is Cut Part Rendering, which displays how a program cuts the part. "I do a few operations, then run the program. If I made no mistakes, I do more operations and run it again. Some parts have so many features that I can't take risks. For a complex part, I'll use it 20 times before I'm done. It's why Cut Part Rendering is my best friend."
He believes it works well. "My scrap rate is really, really low. Fred [Schule] likes that. If it takes me longer than estimated, he's okay. When my programs hit the floor, 98% of the time they make good parts the first time." He adds, "We don't have a deburring department here. We don't need it."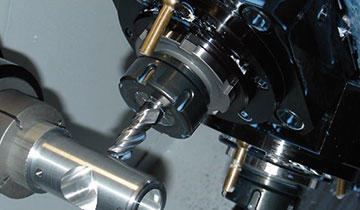 The machining presented its own challenges, says Johnson. "Even with two spindles, we couldn't hold the part on both ends, because we had to face it off. For production, I would have made a handoff to the subspindle to finish the other end, but this was a rush job. The machine is new to us, and I didn't want delays, so I left it for the machinist to flip the part manually."
Getting speeds and feeds to make parts that long and thin, without chatter marks, was the most challenging task. The customer doesn't allow metal-smearing operations—removing chatter marks with abrasives—because these cover microcracks, and cracked parts would pass penetrant inspection.
Although the machine is solid—Johnson can't hear the live tooling at 6000 rpm—he had to program a low rpm. "Even with our great lathe machinist, John Campbell, we scrapped the first part."
Cobalt continues its growth and success, having finished 2007 at $2.4 million, over twice the revenue of 2006. With 30 employees working three shifts, cycling through 15 setups a day, Cobalt Enterprises is about to move into a 10,000 ft2 (929-m2 facility).