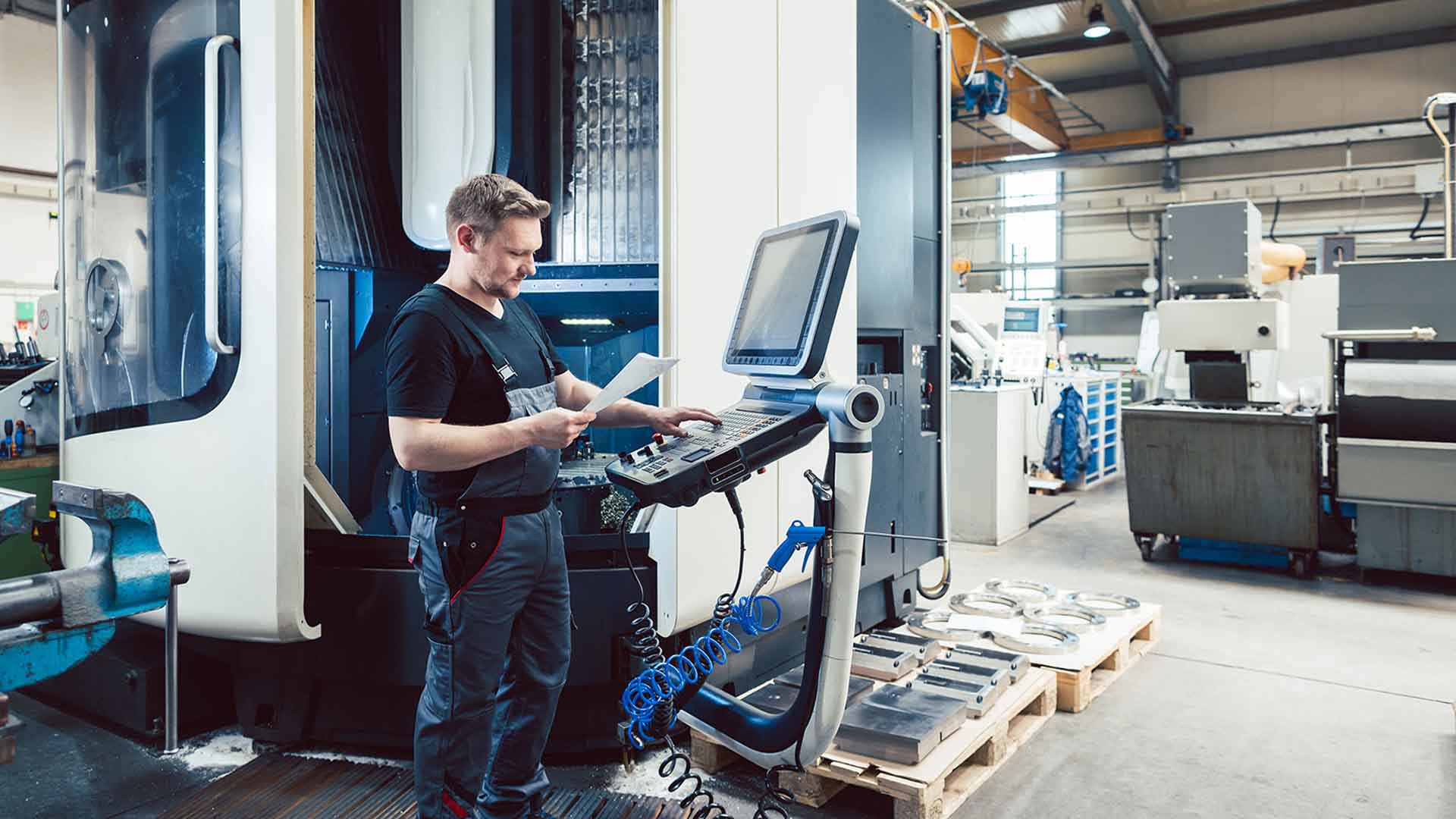 Making Hard Parts with GibbsCAM
A Soft Landing for Distributor Making Hard Parts
Many machine shops are started by people who love machining or "making stuff." There are also stories about companies bringing work back in house because of problems with quality or lead time. What is rare is a distributorship starting a machining operation and making it successful, which is precisely what Avmat Aviation Materials Management has done.
Machinist and lead programmer, Kyle Vander Meyden, experienced all of the shop's challenges first hand. A machinist since 1990, he knew nothing about CNCs until 2003, when first exposed to CNC mills and GibbsCAM. "Fortunately, it was easy to learn and really easy to use," he says. "But I had to learn G and M codes at the same time."
When he started at Avmat, in late 2006, he faced a similar challenge. "I knew manual lathes, but nothing about CNCs, so I had to learn those codes, and learn to program the NLs," he explains. "But the GibbsCAM lathe module was so simple that I figured it out myself."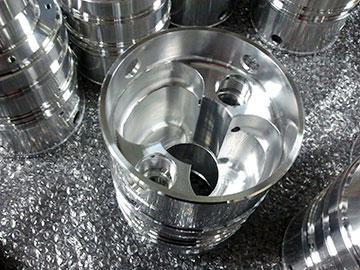 For 25 years, Avmat was strictly an aircraft parts distributor, purchasing parts from suppliers to resell to airlines and overhaul shops. In April 2006, Avmat was purchased by a private investment group that decided the company could better serve its customers and profitability by manufacturing its own parts. Two months later, with licensing from a major aircraft manufacturer and FAA PMA (Parts Manufacturer Approval), Avmat started machining in a 24,000-square-foot facility in Ogden, Utah, to specialize in making the landing gear components it distributes for all types of commercial and military aircraft.
At the outset, Avmat purchased four Mori Seiki CNCs for sturdiness, reliability and precision. One was the NV 5000 VMC, and three were NL turning centers. With a strong recommendation from the Mori Seiki dealership, Avmat also acquired GibbsCAM for CNC programming
Another challenge is that Avmat receives no solid models, making most of its parts from blueprints, some dating to 1965, with the balance through reverse engineering. Mr. Vander Meyden says this presents no problems, because he uses GibbsCAM for all the modeling. Gibbs includes modeling so programmers can repair and modify geometry, make models machinable and simplify toolpath generation. "Our machines are configured in cells, with a PC at each station, so every machinist can use networked GibbsCAM to run simulations before machining and to improve the program," he explains. "But I also use it to model every part, then use the model to program parts, and QA uses it to program the Zeiss CMMs."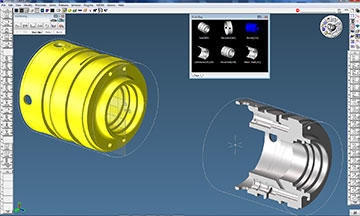 In this fashion, Avmat gradually took on more parts, increasing capability as they increased inventory. Nate Mayhew, operations manager, says they add new parts continuously. It is when part complexity exceeds machining capability or desired lead time that senior management relies on machinists to determine how best to make a part and what equipment is required.
It was an extremely expensive, high-replacement landing gear end cap—a part that holds bearings and port tools to control hydraulic motion—that led Avmat to add a more capable Mori Seiki. Mr. Vander Meyden says, "We had previously contracted this part, which has many internal and external features and very tight tolerances. It took the supplier 2 1 /2 years to deliver good parts, and that's not surprising, since he needed 15 setups on CNC lathes and mills. You can't transfer a part from machine to machine 15 times and expect to hold tolerances."
The inability to supply the part at a moment's notice, plus the part's value and its potential profitability, led the shop owner to ask what the machinists needed to make it. Mr. Mayhew and machinists Mr. Vander Meyden and Scott Ostergaard included a Mori Seiki NT 4300, a Benz right-angle head and GibbsCAM MTM on their wish list. The NT is a dual spindle machine with upper tool group and lower turret, and live tooling Y axis on the upper tool. Mr. Vander Meyden explains that the right-angle head was required to complete the part in a single setup, but that this was not an option available for the NT. "Because there was no way to mount the Benz head, we asked Mori Seiki if they could integrate it. They engineered the interface, and our Benz head was the first right-angle head ever mounted on an NT. We had what we needed to make and drop the part complete in one setup."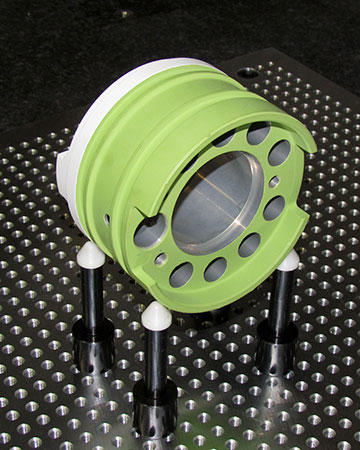 This end cap is one of the two most challenging parts Kyle Vander Meyden has modeled, programmed and machined, in part due to tolerances, which include ±.0005" on the OD and overall length, and ±.25° on all feature locations.
Mr. Vander Meyden was again behind the learning curve. "Switching axes for live tooling on an MTM — going from the XZ plane, to the YZ, to the XY—became the greatest challenge I had faced," he adds. "But telephone support from our GibbsCAM Reseller, telling me what I needed to do, how to do it and when, got me through it."
With the NT in place, Mr. Vander Meyden proceeded with modeling and programming the part with GibbsCAM, using several features with proven value. His most commonly used feature is saving and recalling machining processes—the combination of tools, feeds and speeds, and cutting depths for specific materials, primarily PH stainless steel, but also other steel alloys, copper, bronze and aluminum—because it saves him a lot of time. Whenever an operation is required, he retrieves the process, selects the geometry and applies the process, completing the operation without having to specify variables.
Another frequently used process is subspindle transfer on MTMs. "Since I use it for all my parts, it's a huge time saver. I just pick the machine, and the software inserts the subspindle transfer for part cut-off or regular grab-and-transfer," Mr. Vander Meyden says.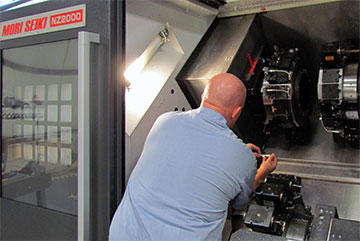 Kyle Vander Meyden using a hole test (bore gauge) to ensure holding a hole to the required ±.0003", before continuing the machining cycle with a part transfer to the subspindle. With tolerances this tight, he measures every part in mid-cycle, to prevent losing a part to a chipped insert. When a tolerance is as loose as .010", he measures every 20th part or so.
GibbsCAM's Sync Manager enables visual optimization of programs, turret synchronization and conflict avoidance. "A big run for us is 400 or 500 parts, but that doesn't mean we don't want to run programs as efficiently as possible," he continues. "We look at cycle times, and do what we can to keep cutting tools busy and optimize programs in Sync Manager."
Mr. Vander Meyden likes GibbsCAM's Cut Part Rendering with machine simulation because it allows the machinists to virtually watch a part being made, to know how machine components will move and exactly how the part will look during and after each operation. He uses machine simulation for complex parts and where tools work in close proximity and has prevented two crashes with its use. In both cases, the upper tool was going to hit the lower turret on an NT. In one instance, the tools were coming together to do pinch turning, and in the other the tools were working on opposite spindles, but the parts extended so far that the tools would have collided. "Even without causing injury, a crash can cost a lot in repairs, replacement and downtime, so Cut Part Rendering with Machine Simulation saves a lot of time and money," he says. "The heads can run to $30,000 or $40,000 each, so Cut Part Rendering is huge for us."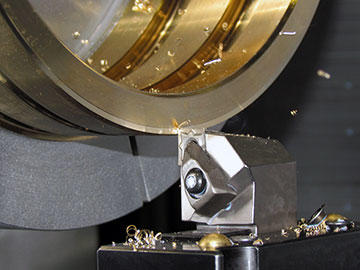 As for the 2 1 /2-year part, as Mr. Vander Meyden came to call it, Avmat delivered good parts in 3 weeks. Mr. Vander Meyden says they would not have been able to make this part, and now many others, without the Mori Seiki MTMs and GibbsCAM. "In many instances, we'd be lost," he says, "We just couldn't make them with the accuracy, reliability, safety and delivery we've been able to achieve."
Since opening shop, Avmat has added two NT 4300s and an NZ 2000 for the most difficult work. With Y axis and subspindles on all the turning centers, the NLs, NTs and NZ do about 95 percent of the work, all programmed with GibbsCAM, which Mr. Vander Meyden also uses to program the NV 5000 VMC and Sodick wire EDM.
"The NTs and GibbsCAM MTM enabled us to make more difficult parts, make more types of parts, and cut production time and cost of others, some going from $1,500 to $500 a part," Mr. Vander Meyden says. "The technology paid for itself multiple times in just 2 1 /2 years. With our backlog of 6 to 8 months on each machine, I could honestly use another NT."
As seen in Production Machining Magazine