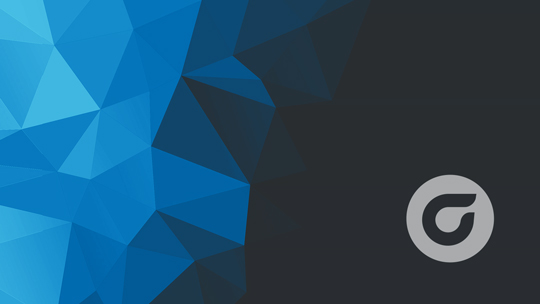 Shop Delivers for Urgent Need with GibbsCAM
Along with price and quality parts, timely delivery is always a priority for the Swiss-parts customer. In fact, quick turnaround is often what sets a shop apart from its competition. Sometimes the need for one shop to turn a job around in a matter of days is brought on by the failure of another shop to deliver on its much longer production schedule. So when a shop designs its entire production process around turning out quality parts fast, it naturally develops a reputation for being a company to turn to in times of urgency
In recent years, EMC Precision Machining (Elyria, Ohio) has positioned itself for delivering in these situations, taking on jobs that other shops have not been able to complete in time. Having the right tools in place, from personnel to machine tools to software, has been the integral element for being successful in this type of work, and EMC has used this ability to land new customers and keep them.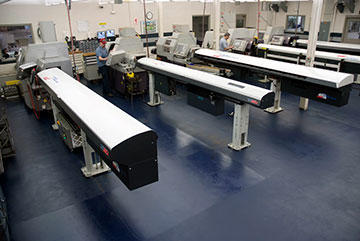 Developing a Culture
In 1925, Burton Ohlemacher left his job as a plant manager at Western Automatics, a predecessor to Moen Inc., to begin his own machine shop with his father. With 5,000 square feet of floor space, the company set up shop with a belt-driven overhead pulley that ran the main shafts for a small bank of Brown & Sharpe lathes producing machine components. Now occupying more than 40,000 square feet at the same location, the company has added a series of Citizen CNC Swiss machines, Makino horizontal machining centers and a variety of CNC lathes to go with its current lineup of Acme Gridley screw machines. Now, 85 years later, with the fourth generation of family members at the top of the organization, the company continues to find ways to stand out among its peers.
Generally, the company serves OEMs for a variety of industries such as industrial equipment, hydraulic and fluid power, pneumatics, agriculture, aerospace, heavy vehicle and medical. Materials used range from stainless steel to plastics, ceramics, aluminum and brass. Because of the company's involvement in prototype work, part runs as low as 25 pieces are not uncommon, but more typically, jobs range between 1,500 and 5,000. Some high volume, high precision jobs, such as a set of rollers for a pipe cutter, may have part runs as high as 100,000.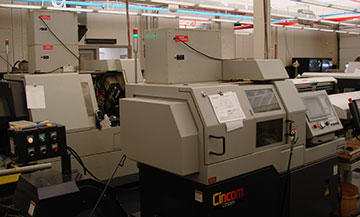 In recent years, EMC has found itself facing more and more urgent machining challenges as both new and existing customers have turned to them for last-minute production when other shops have failed to perform as quoted. Brad Ohlemacher, the current company president, explains, "We strive to be the go-to guys for emergency machining in production volumes. If someone has a supplier that is underperforming with quality or delivery, and they need someone who can quickly engineer and tool up to production volume for any given precision machining component, we can step in.
While the company's experience in these types of jobs goes a long way, the CAM package it now uses has been a key to stepping up the production process even further.
Software Makes its Mark
Early in 2009, EMC made the decision to make a change in its part programming software. According to Dennis Marcell, engineering manager, the company chose GibbsCAM from Gibbs and Associates, because of its versatility with horizontal machining centers. "This package has a lot more programs to address the variety of machine tools out there," he says. "It's designed to run hundreds of different types of machines, and each time a builder comes out with a new machine, it seems Gibbs has an update to match within a matter of weeks."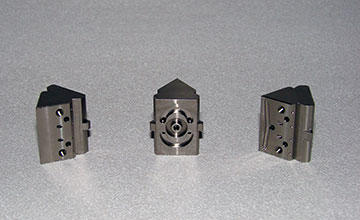 The company uses the CAM software for almost all of its Swiss and horizontal machining. All 3D models are developed in SolidWorks and then imported into the system. Although the software has modeling capability, Mr. Marcell feels this is the most effective method for their needs. "We used SolidWorks before we bought the CAM package," he says. "Once you understand how to do modeling and how to manipulate the 3D model, you can easily transition to the CAM system."
Mr. Marcell sees the geometries that the software provides and the speed at which the engineers have been able to program as being the biggest factors in helping boost the company's success in its urgent machining capabilities. "Part geometry is essential because that's the starting point of everything you do in this business," he says. "If that's not correct, no matter how good the software is, you're going to spit out garbage. With GibbsCAM, the geometry has been perfect every time for us, and that's huge. Everything else can be overcome, but if the geometry is wrong, you're out of luck."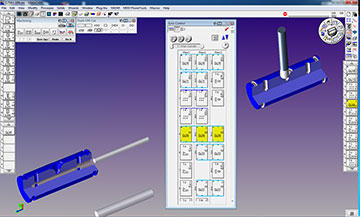 The software has also helped to increase productivity considerably. It has helped cut the time from receiving the job to getting the work on the floor by about 70 percent, typically from 10 days to less than 3. On one particular part, a last-minute engineering change required a move to production on the Swiss machines. This part (see Sidebar page 32), made from 1045 steel for a braking system in the heavy duty off-road trucking industry, took only 3 ½ hours to program from start to finish in Gibbs. According to Mr. Marcell, it would have taken more than 8 hours to do it manually.
As customers grow accustomed to EMC's capabilities, more jobs continue to come in. A recent series of events brought in 240 new part numbers in 90 days. Mr. Ohlemacher sees the performance more as an attitude among the employees. Even with the struggling economy, the company has worked hard to keep service levels very high. In 2009, delivery performance to the customers was more than 99 percent, and quality performance was extremely high as well. He explains, "We've worked hard to make sure that our customers are taken care of so that we don't give them any reason to go somewhere else. Having this growing capability of doing urgent need projects has worked out very well for us, and the tools at hand allow us to do it."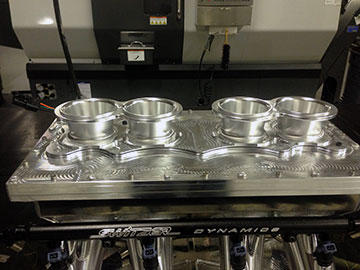 Although VoluMill has tables of suggested parameters, feeds and speeds, Switzer does everything based on chip load, running at maximum spindle speed and maximum feed rate. "I enter the tool diameter, the number of flutes, and my desired chip load per tooth, and VoluMill does the rest," said Switzer. "It's easy, and it's really fast."
Switzer said that a programmer or machinist who is new to VoluMill for GibbsCAM may not understand some of the variables, so he encourages experimentation. "It doesn't take long to figure out what tools can do, what ramp rates work best for a tool's geometry. VoluMill doesn't need to know everything. You just tell it a few things, and it does the rest. You don't have to worry about it squeaking a tool in a corner, or doing something bad. It's going to be perfect."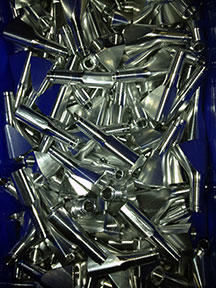 The shop used to make intake runners by hand-rolling sheetmetal or by using radiused dies in a press brake, then welding the seam to close them. They would then build the whole manifold, mount it on a manual mill, and plunge mill the holes in the runners to weld the bungs into them.
Now, using the five-axis mill, they make the entire runner from aluminum billet, with bungs already on it, ready to receive the nozzles, then weld the runners to the flange, and weld the plenum on the assembly. The runner walls are made to be 0.090" (2.2-mm) thick, to make runners as light as possible, so there is massive material removal. Still, making the runners from billet is far more efficient than making them by hand. For a production run, the shop usually makes eight manifolds, requiring 64 runners. Machining the runners, instead of making them from sheetmetal, easily saves 75% of the time, and the shop has removed most of the labor by eliminating welding and manual machining. Furthermore, they've eliminated needing bungs, because those are now built in.
To emphasize the quality of machining, the shop leaves the toolpath as the finish on all machined parts for the manifolds, whether it is a VoluMill toolpath or a five-axis toolpath. "When I see something polished, I look for the defects the manufacturer is covering up," Switzer said. "When somebody sees the VoluMill pattern inside the pockets of our parts, they can tell we have good programming software, and I like showing the tool marks because it shows the quality of the work. There's no reason to hide that."