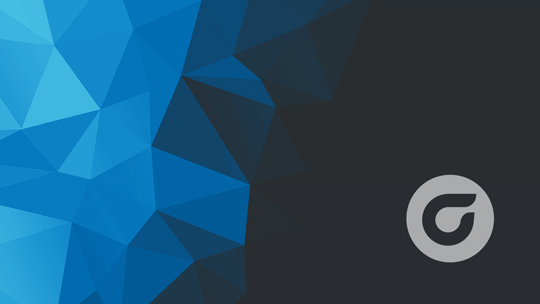 Shop Races Ahead Using GibbsCAM
In 1998, race car driver Robby Gordon wanted to make his own racing components, so with partners Larry Novak and Larry Kaford, he opened SR Machining in Anaheim, California. CNC Programmer Warren Myers arrived the first day, an hour before the shop's first machine, a two-axis lathe. Because race car parts were insufficient to keep the lathe running at full capacity, the shop split its time evenly between racing components and parts for customers.
In 2001, after moving to a 2,500 square-foot facility and having success with its lathe and elementary software, the shop purchased a mill. To drive it, and allow for future expansion, they evaluated various software, and chose the lathe and four-axis mill modules of GibbsCAM from Gibbs and Associates. The software and machine performed very well, and helped SR increase business and grow its customer base.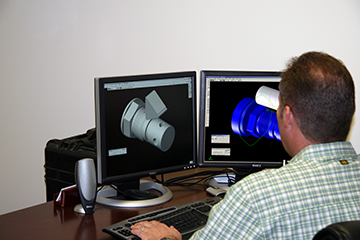 SR Machining's Warren Myers uses GibbsCAM Cut Part Rendering to verify tool motion and machined finish on the brake insert that smooths aircraft deceleration.
After a couple more moves and Mr. Novak and Mr. Kaford buying out Gordon's interest in the business, the shop was a victim of theft in 2005, when it lost all of its computers, software and peripherals. Needing new license keys for lost software, SR decided not to keep its original lathe software, but keep only the GibbsCAM modules. "It was the best thing I could have done," Mr. Myers says. "GibbsCAM Lathe is phenomenal. I can program it in my sleep."
With continued rapid growth and success, SR outgrew its space again. In late 2006, the shop purchased a new, 30,000 square-foot building in Norco, California, where it supports aerospace, medical and industrial customers. There, 36 employees and 24 machine tools run three shifts, 6 days a week, 24 hours a day. The company achieved revenues of almost $7.5 million in 2007.
Aerospace and biomedical work account for about 45 percent of revenues, while the rest comes from high-precision components for pneumatic industrial pumps that fit spaces as small as a 6-inch cube and as large as a 4-foot cube, and move materials ranging from water, oil and peanut butter to plastics. The company's monthly production of any single part runs from 2,500 to 5,000 pieces, with a considerable number of parts running at 40,000 pieces annually.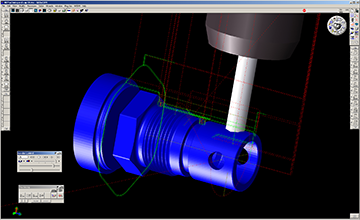 Whenever SR Machining gains new capabilities, it implements them immediately and informs its customers. This tactic is typified with the recent arrival of a pair of twin-spindle Kia SKT 25 turning centers and GibbsCAM MTM (multitask machining) software.
Accustomed to GibbsCAM Lathe and Mill, with which the shop makes more complex parts, Mr. Myers tackled MTM and in 2 days was using live tooling, a subspindle and parts catcher to make the first part on the turning centers. The part has four, 1/4-inch holes on the outside, going into a bore of the ID, and an external thread with two, 1/8-inch holes that accommodate press-fit, thread-locking nylon plugs.
The part, one of half dozen that SR makes for a customer who manufactures aircraft braking systems, goes into the brake system of a well-known corporate and private aircraft to smooth stopping and braking deceleration. When the pilot engages brakes not equipped with this part, the brakes cause sudden deceleration of the small aircraft, often with tire skid. "To insiders, the part is known as the martini valve," explains Mr. Myers, "It keeps passengers from wearing their drinks."
Mr. Myers contrasts making the part with and without the turning centers and the MTM software. "We had made the part on a regular lathe without live tooling, then drilled the holes, 60-degrees apart, on a mill's rotary table. This left a large burr that was next to impossible to remove from the thread.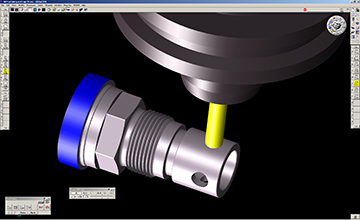 "The process on the turning centers was not only faster, but better," Mr. Myers explains. "We faced and turned the part, drilled the ID, turned the major diameter of the threads, drilled the holes, turned the threads, chased the holes, took a spring pass over Class 3 UNJ threads, milled a wrench hex on the part, transferred the part to the subspindle and parted it off."
The part was complete, and had zero burrs in the holes because Mr. Myers was able to program the live tooling in the MTM software to go back and forth repeatedly. "Although it was one of the first and most complex parts we have made with GibbsCAM MTM and the Kias, it came out absolutely gorgeous," he says.
"Making seals is challenging, especially with tolerances such as ± 0.0006 inch on the wall thickness, and 0.0007 inch on the OD," he continues. "That's difficult, no matter the material, even with hardened stainless. It's difficult to hold, but now we do it regularly. Being able to quickly repeat the back and forth, inside to outside material removal in the software, then post process it and have it come out perfect, is definitely a big benefit."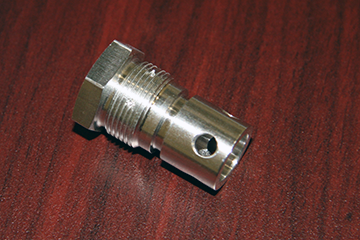 Mr. Myers gives much credit to the new software and machines. "We are extremely happy with GibbsCAM. The MTM module has saved us money, saved us time, helped us get more business and gain new customers with fast deliveries," he says. "The ability to program a part in this software, send it to the machine, and turn it around quickly, proves our commitment to customers and rewards us with subsequent production once a part is proven."
SR Machine still makes parts for its old friend and co-founder, Robby Gordon, but far away from prying eyes of other race teams in North Carolina and with far more capacity and capability. Now with "seasoned" GibbsCAM MTM users, programming several parts daily only 6 weeks after acquiring the software and machines, the company is optimizing machine and labor usage by moving traditional, multi-machine, multi-operational parts to single-operation parts with the MTM software and twin-spindle turning centers.