Slice Mfg. Studios Improves Speed to First Part with Multi-Task Machines and GibbsCAM
CHALLENGE
Produce complex parts in one machining center with one setup.
Program multi-axis CNC machines with a CAM software solution that has a single interface, machine simulation, and good post-processor support and is trustworthy, repeatable, and commonly used by workers in the area.
SOLUTION
GibbsCAM® CNC programming software
Willemin-Macodel 508 mill turn machines with robots
RESULTS
Eliminated variability and multiple operations and setups.
Reduced errors and downtime.
Cut cycle times by up to 80%. Reduced lead times by up to one third.
Improved speed to first part, part quality, and tolerances.
In 2016, Randy Theken founded Slice Mfg. Studios in Akron, Ohio, as a result of his medical implant company, NextStep Arthropedix, struggling to find contract manufacturers that were able to provide the services they needed. So, basically, they're engineers who started a contract machine shop.
Since then, Slice has established itself as an end-to-end, one-stop shop providing services and solutions for the medical device and industrial communities—from design, development, prototyping, and mechanical testing to final production and sterile cleaning/packaging. The high-end, full-spectrum manufacturing studio is FDA-registered and ISO 13485-certified with classed clean rooms. What sets Slice apart is the number of capabilities under one roof, from front-end to back-end operations.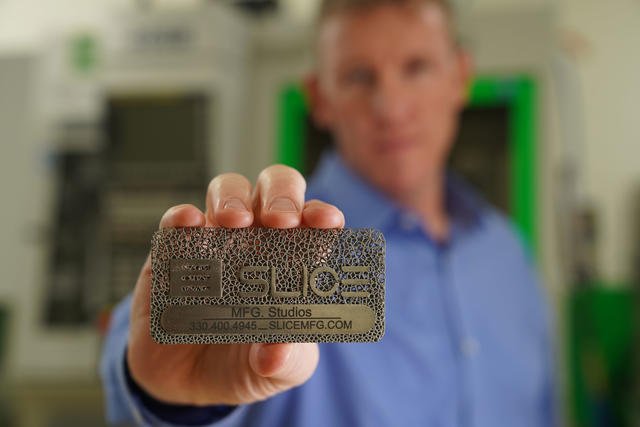 The Products: Medical Devices and Industrial Components
Slice mostly manufactures very sophisticated, three-dimensionally-contoured devices for small- to medium-size customers requiring medical devices like acetabular hip cups, femoral stems, spinal cages, and the full complement of plates, screws, and other components that go with them, as well as industrial components for defense, down-hole drilling applications, and deep-sea underwater connections.
The medical implant industry in particular requires a high level of customization because implants include a family of components with many permutations. For example, because every person is different, a spinal cage may have three or four different angles of lordosis in addition to 15 different sizes. Those permutations mean that Slice has to make hundreds of discrete components and program each component individually. Therefore, speed to program is critical.
"Multi-task equipment is really helpful when you get into those small runs and many types of parts or many iterations/permutation of parts in a single-part family," says general manager Joe Lah. He adds: "We're using GibbsCAM for our multi-axis machines. We have some very good programmers on staff and, when we were looking to choose a software package, resoundingly, GibbsCAM was their software of choice."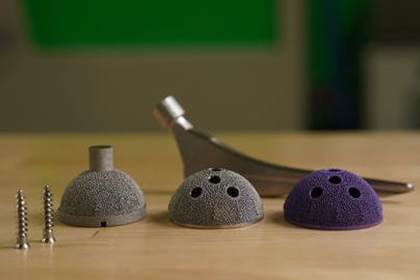 The Equipment: Multi-Task CNC Machines and 3D Printers
Slice specializes in combining 3D additive manufacturing and precision machining into their workflow. With their multi-task machining (MTM) equipment, they can deliver high-precision parts in one setup from bar stock or a metal 3D-printed part. In addition, as part of their additive manufacturing capability, Slice has metal 3D printers that use implant-grade titanium powder for medical implants and a ProX® DMP 300 printer by Gibbscam that they use primarily for prototyping surgical instruments and tooling.
Multi-Axis Capability
Key benefits of multi-task machines include the ability to get at many sides without re-chucking, a single machining center and setup, and a high level of precision. Because you don't have to handle a part through multiple operations, which involves repositioning the part, you can eliminate variability. "That's important in our business," says Lah.
Slice has the full complement of Willemin-Macodel 408 and 508 multitasking milling centers with automated parts loaders/unloaders. The Willemin-Macodel 508s are technically 5-axis mill turn machines, but in essence they're really more like 7-axis machines with multiple spindles, vises, turrets, and a parts loader/unloader. Theken explains: "We can put in a piece of bar stock, do both milling and turning, and complete a part in one setup." Lah adds: "They can get to five sides of any cube, which is important in a lot of these components. And with a simple grab and reposition of a vise, we can get to the sixth side of the cube. That makes it really nice when we're talking about tight tolerance, dimensions, and true positions."
In addition, Slice uses TORNOS Swiss machines to produce bone screws, cervical screws, and high-helix threads. "There's no better piece of equipment to produce those threads. And, with full-programmable B-axis capabilities, it makes machining a whirled thread fairly simple and efficient. As well as, from a precision standpoint, once you get into small, turned parts at volume with a need for a bar feeder, usually there's no better way to do it than through a Swiss lathe," says Lah.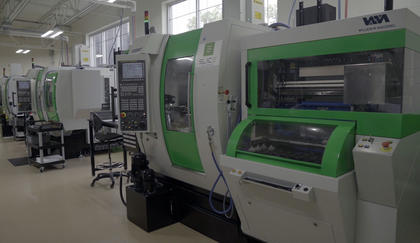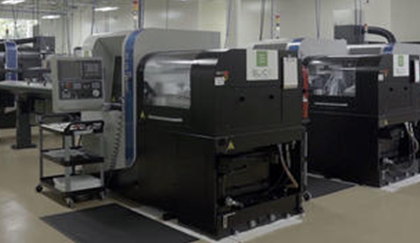 Reduced Errors, Improved Part Quality, Lights-Out Machining
"When choosing the Willemin-Macodel machines, it was primarily the quality aspect, precision," recalls Lah. The Willemin 508s have high-precision spindles, linear motors, and ways outfitted with precision scales. And they are thermally controlled, so they hold tolerances quite well throughout the day. "Plus you've got robots doing things too," adds Theken. They are equipped with robotic load and pick-in-place units so that Slice essentially can run lights out without quality or safety issues.
In addition, by using one machining center, they're not inducing errors or air going from step to step or machine to machine, which is important from a quality standpoint. "When you eliminate multiple setups, you know right away whether you've got a good part or not. You don't have to rely on the stack up of tolerances that may occur from chucking to chucking, setup to setup," explains Lah.
And, when using GibbsCAM to program the MTM equipment, Slice can see the part from start to finish all in one machining setup, which reduces errors that are inherent in multi-setup processes. Because they can simulate a part and walk through all the required tools, machining passes, and finishes in one setup in GibbsCAM, they can see things that they wouldn't be able to see or simulate with multi-stage processing. "Therefore, multitasking equipment is really the only way to go," concludes Lah.
According to lead CNC programmer and manufacturing technician Brad Fowler, "Part quality is better. It's more accurate. It's less set up, less human error." Lah adds, "And it shortens lead time."
Shorter Lead Times
Because the multi-task machines are a single machining center, they have one setup. Part in, part out, part finished is much quicker than batching parts through multiple setups—and eliminates the queue times between each of those setups, which can add up. "And they're really not palatable from a customer standpoint," adds Lah. "From a lead-time standpoint, we're able to meet most customer commitments in four to six weeks. Whereas, if we were to batch parts through, it would probably triple that."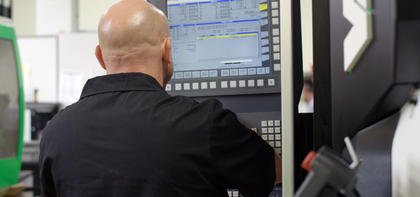 Gary Knight, lead CNC programmer and manufacturing technician at Slice, adds: "When you take out the other setups, it's a huge time savings. The multi-task machines save you hours of programming."
The Software: GibbsCAM
Slice Mfg. Studios has been using GibbsCAM CNC programming software to program their Willemin-Macodel multi-axis machines and some mills since they opened in 2016. "There weren't any other CAM software programs that could support the sophistication of the Willemin 508 machines," recalls Theken.
Reliability and Repeatability
Because any interference could wreak havoc on the MTM equipment, Slice needed CAM software that is trustworthy and repeatable—that it can count on job after job after job. The ability to rely on the programming software is super important when it comes to ultra-high-precision MTM equipment, which are not run-of-the-mill machining centers that can survive a machine tool crash. You have to know that you're not going to have any collisions or unexpected machine moves and that you can load a program reliably, through the post-processor, into the equipment and move on without any concern. "GibbsCAM can seamlessly create programs that, through the post, are reliable and repeatable heading to the multi-task machines," says Lah.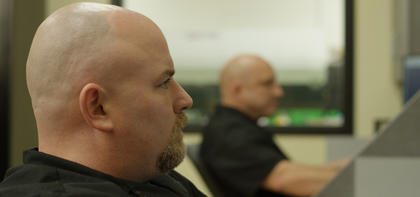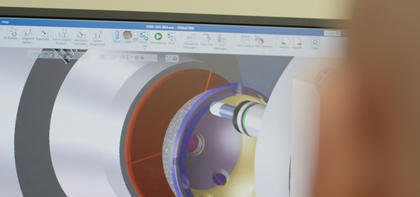 Speed to First Part
In addition to cycle time, according to Lah, the biggest selling point with GibbsCAM is that speed to first good part. In their industry, the time invested to take a part from drawing a model to first part out of the machine can be as much as the time to make the parts; therefore, getting through those steps quickly is critical. "With GibbsCAM, we have the capability to work through multiple permutations and iterations of products with speed and efficiency that we just can't find elsewhere."
By using GibbsCAM to surface different areas of the part versus traditional swarf cutting or milling and turning, Slice can produce the required geometries and surface finishes without post-processing and minimal front-side effort to get to the first good part. Lah notes: "GibbsCAM is really important to speed product through the shop. We have the confidence that any time we program a part, simulate and verify that program in the coding room, and then bring it out to the machine, we can have a part through first article layout, sometimes first try."
"I get a work order, see what the job is, import those files into GibbsCAM, program my job in GibbsCAM, post my job, send it to the machine—and I get a good part," summarizes Fowler.
Single Interface
Another time-saving feature of GibbsCAM is its single interface. Fowler and Knight say that because they don't have to switch between multiple programs and can do everything within one interface, they're saving time. In addition, Slice saves time training new employees because they don't have to train on multiple programs. Rendering and Machine Simulation
The ability to render and simulate is another huge benefit of using GibbsCAM to program multi-task equipment.
Knight likes that he can model, sketch, and render all on the same screen using GibbsCAM instead of wasting time flipping between screens like in previous CAM programs. "It saves several hours throughout the job."
In addition, the GibbsCAM machine simulation feature helps Slice avoid machine crashes, thereby avoiding downtime and spending money to fix a crashed machine. "I've got a 7-axis Willemin machine out there and we have a lot of things moving around. And the ability to watch the simulation and make sure we're not going to crash the machine is very good," says Fowler.
The GibbsCAM machine simulation feature also saves Slice time. Knight says that he can grab a part in a Willemin 508 machine with a vise, sub-spindle, or tailstock, which he calls the wheel of fortune, and pull out whatever he needs. He can simulate that in GibbsCAM and render that with the vise or sub-spindle in place. "Without GibbsCAM and being able to see the machine simulation on the parts that we render, it would be hard. You would spend a lot of time on or off the floor or checking things like clearances," Knight points out. He adds, "A lot of the other CAM software programs do not have machine simulation."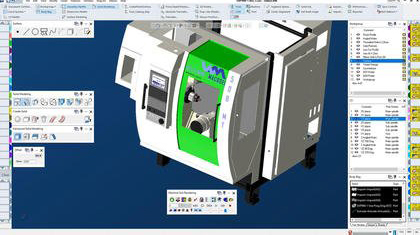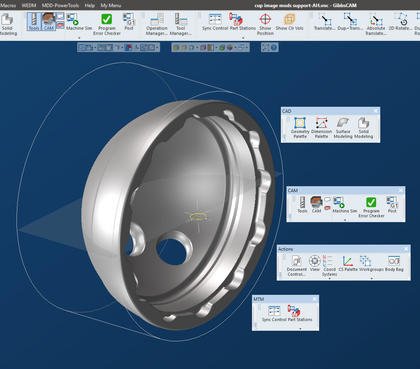 Ease of Use and Customization
Both Fowler and Knight also appreciate that GibbsCAM is customizable and easy to use and learn. Slice was up and operational and using GibbsCAM with their MTM equipment efficiently within hours.
Fowler, who's been using GibbsCAM since 2001, notes that it has many different options to create a good toolpath. He likes that everything's right up front in GibbsCAM on the same screen and that he can customize the tiles so the features he uses the most are at the top of the screen. Knight adds that GibbsCAM allows him to fine-tune the post so he can have the machine set up the way he wants. "Obviously, anything that's a click away is going to be faster than scrolling through different tiles," summarizes Fowler.
Industry Experience
According to Theken, Slice ultimately chose GibbsCAM to program their multi-task machines because of its industry experience and reputation.
Reputation
Lah notes that GibbsCAM is widely known in the community: "With these multitasking machines, it's hard to find folks that can make them sing like they need to and like they can. With GibbsCAM, we can find programmers who really know the capabilities of the machine, can match that with the software, and get us to solutions that work, quickly."
Post-Processor Support
Post-processor support was another critical factor in choosing GibbsCAM. According to Fowler, each machine takes a different post and, if a post doesn't match the machine, they have to edit a lot of code.
Initially, Slice was using a different post processor that was pretty unreliable. Lah recalls: "When we teamed with Virtual Manufacturing Services, Inc., things were seamless. They provided us an out-of-the-box post processor that was orders of magnitude better than anything we had used previously, that we could count on the first time, and that was really instrumental to the success of our firm. We were able to go from initial post to finished state very quickly—a matter of weeks." In addition, Virtual Manufacturing has been able to turn around any edits, customizations, or bug fixes for a post almost immediately.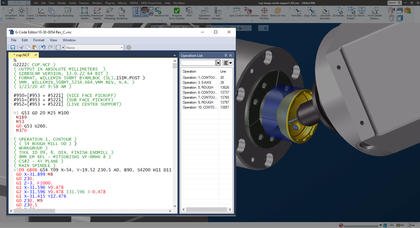 Local Support
Another bonus of working with Virtual Manufacturing is that they're local. Knight has worked with Virtual Manufacturing for posts since 2006 and says that the support's been great. "And I don't have to wait to contact California."
The Results: Competitive Advantage
With the multi-task machining centers and GibbsCAM software, Slice Mfg. Studios has been able to provide its medical device and industrial customers with the complex, ultra-high-precision components that they require and that most other shops can't produce. "We're able to, in one setup, make components that might take others months and countless hours of design and programming work. Where, through the GibbsCAM software and multitasking capabilities, we're able to go from program to finished part in days," confirms Lah.
Many customers have come back with high accolades for how Slice has used their multi-axis equipment to remove pain from the customer supply chain.
For example, a defense customer was sourcing a very complex part from the United Kingdom processed in four setups that had exorbitantly long lead times and a fairly prohibitive cost. Through the MTM equipment and GibbsCAM software, Slice was able to complete the part in a single setup, cutting the cycle time by 20 percent and removing three setups from the process.
In addition to the cycle time savings and the high-quality, precision machining with GibbsCAM, Slice achieved tolerances that other suppliers had proven unattainable. The print came in from the defense customer with a true position tolerance of zero. The only variability that Slice was allowed was through maximum material condition. "Through GibbsCAM and the MTM equipment, we were able to achieve that. And I can't think of a lower tolerance than zero," Lah sums up.
Another example that Slice is pretty proud of is an acetabular hip cup for an outside customer. The customer was having the cups machined at three other independent, very high-end machine shops that all required three machining setups and about two hours' worth of machine time to produce a cup. Slice brought the hip cup in house and manufactured it in a single setup using the MTM equipment and GibbsCAM software—reducing the cycle time by almost 80 percent down to about 20 minutes.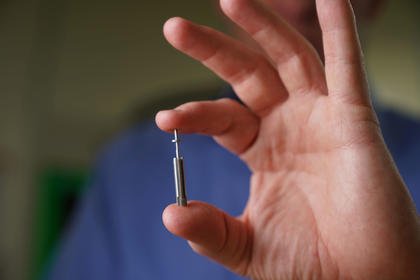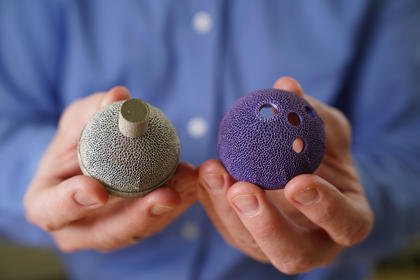 With GibbsCAM, Slice has taken pain away in a speed that allows their customers to continue business without worrying about the supply chain or whether they're going to meet project deadlines.
"Without GibbsCAM, I don't know how we would operate in this shop. It takes a powerful piece of software to be able to go from our customers' ideas and requirements into real, tangible solutions and products." Lah concludes: "I whole-heartedly recommend GibbsCAM for anyone who's considering buying some multitasking equipment or even changing their current software. GibbsCAM has given us the capability to be more efficient and to make components that couldn't be made any other way."