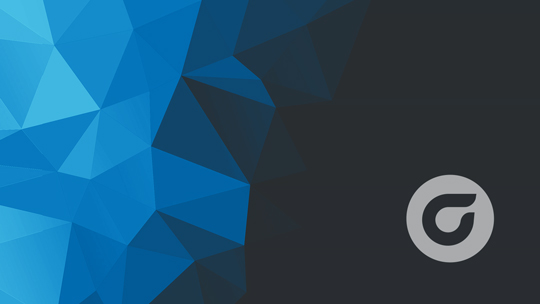 The Second Time Around with GibbsCAM
A CAD/CAM Software Package Helps an Entrepreneur Do It Again!
David Jordan, president and founder of Pleasanton, CA's Inverse Solutions, Inc., has already achieved what most entrepreneurs only dream about.
"I built my first job shop into a very successful business with 130 employees in a 35,000 square-foot building," he says. "We had been making parts for the semi-conductor industry for years. Then a partner and I came up with a shield technology to prevent the metal they sputter (deposit) on silicon wafers from flaking. The result was that from just making parts for the industry, we developed a whole technology around particle reduction. Using that technology, we built a company we called SET (for Semiconductor Equipment Technology), and SET succeeded incredibly."
In 2000 Jordan and his partner sold that business to Tosoh Corporation, a Japanese company. He was about 40 at the time, and had more than 20 years of business experience under his belt.
"I learned a lot during that time," he says, "but when SET was gone, I had money, but no real direction."
First Business
Jordan started his first company right out of high school, a machine shop, in his father's basement.
"My father was a master machinist working in the lab at Stanford University making prototypes," Jordan says. "I had learned to arc weld in high school and started welding components free for the school bus maintenance people, who were next door to the school. When they found out I could weld, they started bringing parts over. But then I thought, 'I can make money doing this.' That's what got me going in my own business."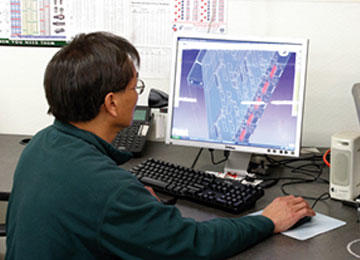 After high school, Jordan asked his father to help him buy a small arc welder, but, instead, his father came home with a TIG welder.
"That was totally different," Jordan says, "I didn't know anything about TIG welding, but dad took me to Stanford to watch one of their top welders. I learned TIG welding by looking over his shoulder."
Jordan's little business did pretty well, he recalls.
"I ran the company for the first two years," he said, "and we continued to collect manual mills, lathes, that kind of stuff. We did pretty well for a garage shop. We were machining and welding and doing some assembly for a number of companies in the area and for a guy who lived nearby and worked in the semiconductor industry. When he learned we had a shop near his home, he started dropping off work on the way home and picking it on his way back to work. He remained a customer for years."
After two years, Jordan asked his father, who was his partner, to join him full time in the business.
"That changed everything," he says. "My father was a master machinist and was really the base of the business. His presence gave us a huge new capability, so I just went out and told customers, 'We can do anything.' From there the business grew and led eventually to the creation of SET."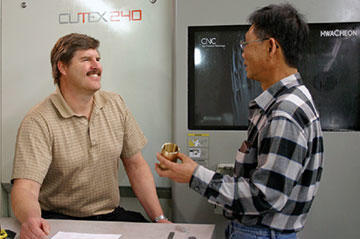 Drifting Awhile
After selling his first successful business, which had consumed most of his energies, Jordan says he drifted for a while, not quite knowing what to do with himself.
"I was still young, I had money, but no real direction," he says. "On the other hand, I'm not someone who can just do nothing, so I did a lot of things to stay busy. All my life I had been very focused. When I was very young, I told myself, 'Someday I'm going to build my own house. I'm going to start a company, and I'm going to be a millionaire by the time I'm 35 years old. My grandfather had laughed at that. But now, having achieved all my own goals, I wasn't sure what I wanted to do. It was a strange feeling."
Jordan tried construction for a while.
"I bought a couple of houses and remodeled them," he says. "Tried that for a while. After that my ex-partner from SET set up a large manufacturing plant down in Mexico asked me to join him as consultant, and I did that for a year. Finally, I went out and sold machine tools for about a year,
and that's what really got my juices going again. It was very interesting. Being out there in the industry, seeing which machine shops were successful and which ones weren't and what the hot industries were, got me interested again. I suddenly knew what I wanted to do. I loved the machine shop business, so why not do it again? It would be a good challenge, and it would be fun."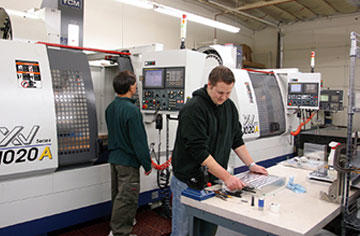 Switzer feels that he learned a lot from that exercise, and feels better prepared for jobs that really belong on that machine, which is normally used for running high-volume parts that the shop uses and sells, such as the nozzles used in nitrous oxide systems, and other parts that can be turned, milled and completed in a single setup.
The production run of the Simpson buckle was done on the three-axis mill, using VoluMill for roughing. It was a challenge because it is 3/16" (4.7-mm) thick stainless steel that required a lot of material removal with 1/8" (3.1-mm) end mills. Switzer said that the shop runs carbide end mills on stainless steel hard at 12,000 rpm and that tools work best and last longest at high speeds and feeds with VoluMill. "On other jobs, we cut big pockets in 1018 steel with a 1/2" [12.7-mm] end mill, at 12,000 rpm and 300 ipm [7.6 m/min], and we get tool life that is easily five times—up to ten times—what it is with conventional milling," he said.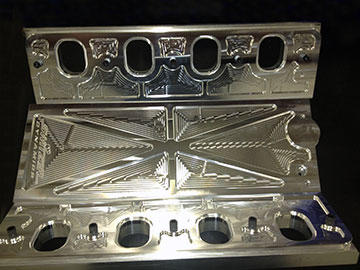 The Second Time Around
Jordan was a much more experienced businessman when 2-1/2 years ago he started up the second time. "I had a business shell named Inverse Solutions, Inc. sitting on the shelf," he says. "At one time I had considered starting a reverse engineering company under that name, but had changed my mind. Since the company was already in existence, I used the name for my new business, and it's
working out just fine."
Startup this time was much easier, Jordan reports.
"This time around I knew a lot of people, potential customers, and they knew me," he says. "I knew equipment sales from my previous experience, and I had a pool of good ex-employees to reach out to."
Since kicking off again, Jordan has aimed his efforts primarily at the medical, semiconductor and electrical connector industries.
"We've been pretty successful," he says. "We have fourteen employees, we're in a 5,000 squarefoot facility, and we're operating two multi-axis Star Swiss machines with subspindles and live tools. We also have a Starrett CMM and four YCM, 3-axis vertical machining centers, two 20 x 40s, one 16 x 20, and the newest one has a 23 x 40 work space. This time around we bought all our equipment from Joe Clancy, mainly because of the great support he gives us."
Programming Headache
Not long ago Jordan got a shot at a large order for some very complex parts.
"The customer was an aerospace company that found us through our website," he says. "They came in for an interview and seemed satisfied enough to give us a part to see whether or not we could do it. It was a deceptively simple looking part made out of 6061 T6 aluminum. The problem was, it wasn't simple at all. It turned out to have multiple layers, it had .001 tolerances and it had to stay very flat, which 6061 doesn't like to do. To give you an idea of just how complex it is, it runs 8 hours cycle time just on one side."
But the biggest problem wasn't the machining, Jordan reports.
"It was the programming," he says. "It took us approximately a week to program it using another CAD/CAM system, but we did it and made the first part.The customer loved it. It went through their tests great, and they came back and said there were 60 more parts, each different, each requiring different programs. They wanted the parts delivered over the next six months, which I knew we couldn't do the way we were set up."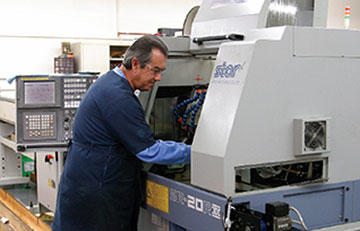 Jordan went to the customer, though, and said, "Look, if you give me an opportunity to do all these parts, I'll add the capability. I'll be your shop, and I'll run all these for you. They agreed, and I added the the third YCM. But I also needed new CAD/CAM software that could significantly speed up programming and be quick and easy to learn."
GibbsCAM Got the Nod
Jordan went looking for software that could read a solid, and program directly from the solid.
"The software had to be intuitive," he says. "We really didn't have very long to get up to speed. It had to be quick and easy to learn, plus I wanted software that would allow my guys to machine the way they wanted to, not the way it wanted. Another big thing for me at the time was what kind of support we could get. With our time frame, I knew we would need help. I wanted a company that would dig in and teach us what we needed when we needed it."
In the end, after a visit to the Santa Clara trade show, and seeing demonstrations of several software packages, Jordan decided on GibbsCAM.
"I bought one seat," he says, "and John Shern, who works for the Gibbs distributor, really pitched in and helped get us up and running. He came over and trained Tien Kiet, a great programmer who had worked for me at my previous company. Shern came in and said, 'Look, I'll stand by and make sure that you succeed with this software.' The bottom line is that I ended up buying a 2D solid program from Gibbs, and it's handling the job fine. I think we definitely made the right decision."
And Next?
Where does Jordan plan to go next with his shop?
"What excites me is that you can can build anything in a machine shop," he says. "If you can dream it up, you can build it. Right now, we're still getting our feet on the ground and consolidating our customer base. We want to go after more medical work for our Stars, but like most startup shops, we'll do any work that's profitable."
What about his entrepreneurial spirit?
"Well, that's still alive and well," he says. "I have a few ideas rumbling around in my head, and I have a new partner who's an expert in the semiconductor industry, and he has some ideas, so you just can't tell what will happen. The main thing is I'm back in the machining business and I'm happy. That's what matters to me."