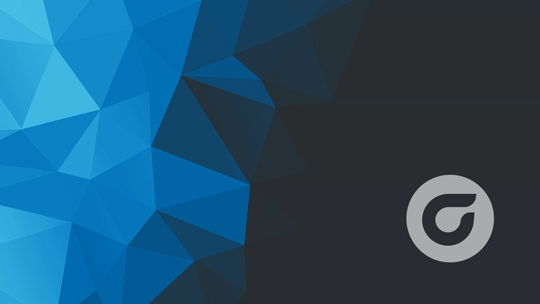 Using GibbsCAM MTM to Speed Up Making of Orthopedic Cutting Tools
Never the Same Old Grind
Matt Dahms believes the story of his shop, Oak View Tool Co., Columbia City, IN, is a cliché – learning a trade, working for someone else, becoming disenchanted, yearning to become one's own boss, and leaving a good job to start a machine shop in one's garage. Where the cliché breaks down is the rarity of such a start-up to make cutting tools for orthopedic surgery Straight out of high school, Dahms went to work for an automotive shop, where he learned to grind cutting tools. From there, he went to an orthopedic company in Warsaw, IN, to grind cutting tools with manual machines. During his six years there, he came to recognize his skills in designing and manufacturing quality cutting tools, and developed bone-removal tools. He moved quickly through the ranks, overseeing more than 300 people's cutting tools by the time he struck out on his own, in 1996, when he invested $30,000 to build a pole building on his farm and start Oak View Tool.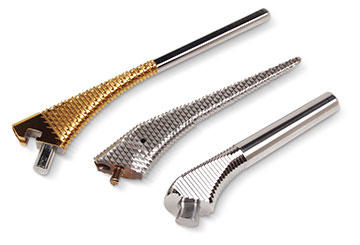 Since then, the shop has been manufacturing high-speed steel and carbide high performance cutting tools, as well as stainless steel tools for orthopedic surgery. A good part of its recent growth has come from OEM contracts for design, engineering, and manufacturing services to make the orthopedic cutting devices. Dahms explains that the shop helps to develop the cutting geometry of surgical devices, such as broaches, drills, rasps, reamers, or glenoid cutters (used to hollow out sockets for implants), all of which require grinding to form flutes or teeth for efficient cutting action.
"These are manually operated tools, and the last thing a surgeon wants is to prolong a surgery, or tire his arms and fingers during a procedure," Dahms notes. "They want the most freely cutting tools that perform as fast as possible, while remaining safe."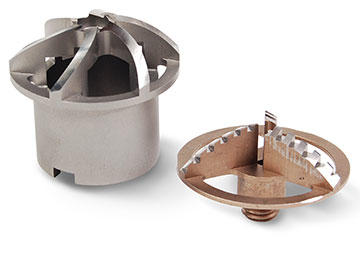 Growth Spurt
In 2001, having outgrown the pole building, Oak View purchased its current building, where growth required adding 10,000ft2 of space in 2005. In 2009, Oak View drew the attention of officials at a large carbide tool supplier, SGS Tool Co., Munroe Falls, OH, who proceeded to acquire them. The acquisition gave Oak View access to a global distribution network for carbide cutting tools, and strengthened the reach of SGS in the medical device market. Recognizing the expertise of cutting geometry at Oak View, SGS retained Dahms as president and provided the investment that Oak View required in order to move up to the next level of providing exceptional products and services for both carbide cutting tools and orthopedic cutting instruments.
Eric Arnold, general manager, Oak View, says that, in late 2008, they determined they could help medical customers even more.
"The OEMs develop their designs, then make blanks, and then send us the blanks and a CAD model," Arnold explains. "Making or contracting for their own blanks added to lead time. If we made the blanks, we could grind them as we machined them, which would provide a much faster turnaround."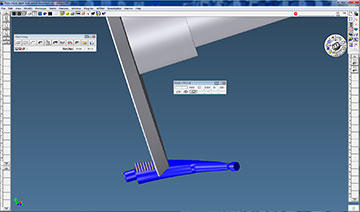 Because the shop was not equipped to efficiently machine some of the irregularly shaped blanks, it decided to purchase a multitask machine (MTM), choosing a Mazak Integrex 200-MY in early 2009 and, as Dahms explains, a CAM system capable of programming the machine without a lot of effort. "We went with GibbsCAM because Mazak bent my arm and told me we had to have it. I spent a lot of time with Mazak people, discussing what is good, what is not, and what is necessary. One of them said, 'GibbsCAM is the easiest system to use; and it is really good.' Sure enough, we bought into that, and it has proven to be true."
That, too, has been the experience of Bryan Berkebile, senior CNC programmer, who has been with Oak View since 2011. With more than 18 years' experience programming on several large and small systems, his first experience with GibbsCAM was at Oak View, where he learned to use it without training, relying on the local Reseller and Gibbs for support.
Berkebile was recently certified on a different, highly popular CAM system, which he finds cumbersome for MTMs.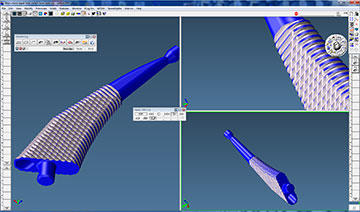 "On that system, you write a post to handle each turret, post-process that milling operation, and then paste the output back into the NC code," Berkebile explains. "I would do that a lot for MTMs, Swiss machines, and even 3- and 4-axis chuckers. GibbsCAM does well with all of them, using a single post for all operations on the machine, without editing. And what you see on the screen is what you get with the post processor. It posts out very well."
Handled with CAM
Most of Oak View's medical tools start out as round stock, although hip broaches begin as flat stock. For a prototype, customers provide a CAD model. For a proven product, they may send a CAD model, prints, and a set of measurement criteria.
"GibbsCAM handles CAD files really well," Berkebile says. "I prefer files in ParaThe Mazak Integrex enables Oak View Tool to take on the complete manufacturing of surgical tools, reducing lead-time by the amount of time taken by the OEM customer to machine and provide blanks. Shown here are different types of hip rasps. The gold coloring is titanium nitride (TiN) plating, an extremely hard coating used to retain and extend the life of cutting edges, and sometimes used for lubricity and color-coding. solid format, because that seems to be the most reliable CAD output, and I open those files without a problem."
Oak View uses Solid Edge for CAD, although Berkebile relies heavily on GibbsCAM's modeler.
"Customers may send models with unilateral tolerances, or models that can't be used for direct manufacturing," he explains. "So I use GibbsCAM to create a manufacturable model from the customer model, or recreate the model to develop surfaces for grinding."
When the shop receives an order for hip broaches for which the shop will also make blanks, Berkebile says that, sometimes, he only needs to remove part features from the CAD model, while other times he needs to add features. Analyzing the model, he first determines how to hold the part on a grinder at both ends. This usually requires adding a centering feature on one end for the grinder's tailstock, after which he determines how much material to add or leave for grinding, and what features need to be added or removed.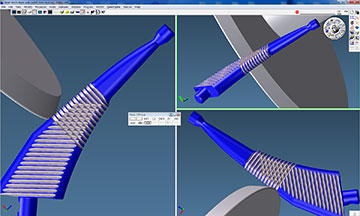 For example, having teeth on the model is undesirable, because those will require programming for grinding. If bone-cutting features such as teeth or flutes are to be ground into the part, material needs to be added so the grinders can form those features. At other times, a part may need to be made in two operations, where the first operation may look nothing like the model, in which case only part of the model is used. Frequently, modeling involves adding features for supporting or holding the part during grinding operations.
"I use GibbsCAM for all these modifications," Berkebile says. "GibbsCAM's modeling is some of the best I have seen. For what you need to do in a machine shop, it works very well. Other CAM systems will scream at you, if you try to do what GibbsCAM just does."
Once all modeling is complete, he determines machining strategy – including whether it occurs in a single operation, dropping the part off completed from the Mazak, as he does for a number of different products – or if it requires two operations and if jaws need to be machined for workholding.
As he programs, Berkebile uses GibbsCAM's Cut Part Rendering (CPR), which shows material removal and finished appearance from every operation, because, he says, "It works really well. Other systems seem to crash when trying to render, but GibbsCAM works really well. I have never had a problem."
So Much More
Berkebile also uses GibbsCAM to program a 4-axis mill and a 2-axis lathe. Success with programming led Oak View to initiate a grinder project with GibbsCAM
"There is no universal solution for programming and post-processing for CNC grinders," Berkebile says. "So, we are working with Gibbs to develop post processors for our grinders."
With GibbsCAM, Berkebile models grinding wheels as custom tools, and then programs toolpath as he would for mills, creating toolpath directly from a part model, or creating toolpath geometry from the model. After programming, the post processors do the rest.
"We have been successful in post-processing for the grinder we use for the hip broaches," Berkebile explains. "Our goal is to program all the grinders with GibbsCAM."
The Mazak and GibbsCAM Combination has made Oak View Tool more efficient with blanking projects, and its GibbsCAM grinder programming initiative should add considerable efficiency. Even so, the shop is again ready for expansion of its 14,000ft2 space. With 25 employees running nine CNC grinders, a mill, a lathe, the Mazak, and assorted support equipment, the floor is full.
Dahms says he believes they will have to add space in the near future.
"We are really fortunate," Dahms comments. "We have a really great group of people, we are running three shifts, and we are still winning specialized carbide jobs and winning one stainless job after another. Orthopedic OEMs will develop a new product, and their engineers come to us and say, 'We have this new widget; this is the profile we need; can you grind geometry to make it cut better and faster?'"
Growing Again
Oak View gained ISO 9001-2003 certification in 2010, which should provide assurance of its quality, while its ISO 13485-2008 certification should leave no question about its medical manufacturing credentials. In fact, Oak View has recently seen such an increase in orders for their long, specialized surgical tools that additional CNC equipment is justified.
"Our first priority is a Swiss style lathe, because we make some extremely long, small diameter parts and we need a sliding headstock to keep support close to the cutting tool," Arnold says. "After that, maybe another Swiss or another MTM."
In personnel, Arnold and Berkebile see another CNC programmer as a key addition, to help program new machines and more grinders as they come on line, and to use the second seat of GibbsCAM, which is already in place.
As seen in Today's Medical Developments Magazine