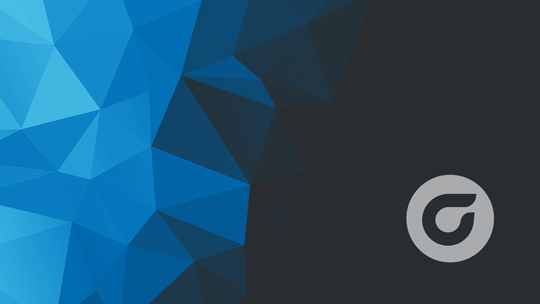 Using GibbsCAM Polaris Industries Hits the Jackpot
In 1998, Polaris introduced Victory Motorcycles, the first all-new, Americanmade motorcycle from a major company in nearly 60 years, and four years later launched the sleek Victory Vegas cruiser. Their latest cruiser, the Victory Vegas Jackpot, comes standard with the features and look of an extreme custom bike, including a fat 250mm rear tire, outrageous graphics and a super-low seat.
Perhaps the extreme temperatures of Minnesota has something to do with it, or maybe it's just the all-out competitive spirit that permeates Polaris Industries (Medina, Minn.), but for whatever reason, they make some of the most amazing recreational vehicles in America. In business for more than 50 years, Polaris designs, engineers, manufactures and markets snowmobiles, all-terrain vehicles (ATVs), Victory Motorcycles and the Polaris RANGER for recreational and utility use.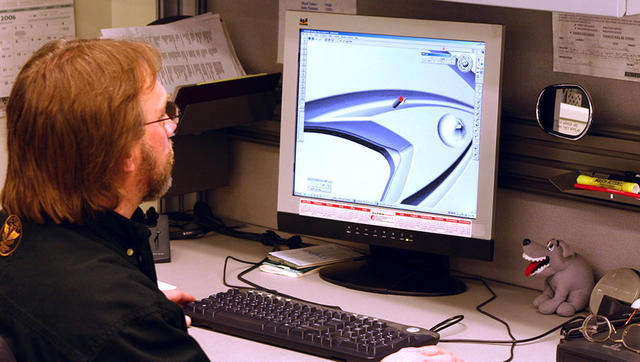 In 1998, Polaris introduced Victory Motorcycles, the first all-new, American-made motorcycle from a major company in nearly 60 years, and four years later launched the sleek Victory Vegas cruiser. Their latest cruiser, the Victory Vegas Jackpot, comes standard with the features and look of an extreme custom bike, including a fat 250mm rear tire, outrageous graphics and a super-low seat. The Jackpot offers the consumer not only quality and reliability but direct-from-the-factory pricing too.
Today, Victory Motorcycles continues to outpace industry growth — with consistent sales increases and excellent reliability and customer satisfaction scores. According to MIC (Motorcycle Industry Council) data, Victory is the fastest growing motorcycle brand in the industry. While this kind of success is largely the result of the caliber and dedication of the entire Victory team, it's also a testament to the quality of tools that are available to them.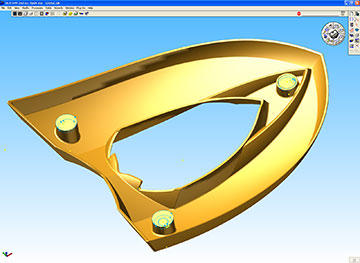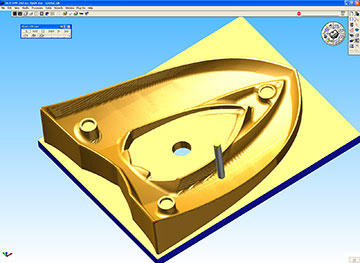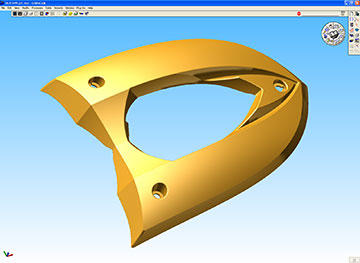 Development of Polaris' motorcycles is handled by the Victory Engineering group — a team that lives, eats, and breathes motorcycles. Originally, the fabrication equipment and build area was located in a 12-ft wide converted hallway. Obviously not an ideal location, fabrication was eventually moved into a larger area where the chassis technicians had separate work bays. In the spring of 2005, Victory Engineering was moved to a new 127,000-sq-ft development facility located on a little over 600 acres of land north of company headquarters in Wyoming, Minn. Even better, the new facility has and is developing test tracks with respect for the environment and wildlife on and around the property as a top priority.
The new facility is dedicated solely to new product development for Victory Motorcycles, and Polaris ATVs, sleds, utility vehicles, and power-trains. This is where new Victory motorcycle designs are conceptualized and prototype bikes are built. The Victory Engineering fabrication shop now has more than double the equipment and has added a paint booth, welding area, and substantial improvements to their fabricating capabilities with more to come.
Engineers and designers develop their designs in Parametric Technology Corps (PTC) Pro/Engineer software and then hand them off to Jerome Jasmer, senior development machinist in the fabrication shop. Jasmer is responsible for making the designs a reality using GibbsCAM software.
Using separate systems is not a problem for Jasmer since Gibbs offers a Pro/Engineer data exchange option built on the Granite Interoperability Kernel from PTC. The Granite kernel lets GibbsCAM directly access Pro/Engineer geometry and attributes.
When Gibbs first offered the Pro/ENGINEER data exchange option, Jasmer recognized how it could speed development. He approached the designers about purchasing the new option and got an enthusiastic go-ahead. Previously, the designers and engineers were transferring their Pro/Engineer data by exporting IGES files and using an IGES translator. With big projects that required a lot of back and forth communication between the fabrication shop and the design group, the problem of inaccurate data exchange caused problems.
"As I work on a prototype, sometimes I modify the part files on my end instead of having a designer redesign the part," states Jasmer, "In addition to reading in the Pro/E files, I discovered that I'm able to convert my GibbsCAM files back into Pro/E files and send them back to the designer. It works out fantastic! At first, I wasn't sure just how valuable it would be, but the designers all said to go for it. Being able to convert my files back into Pro/E is great. It works better and cleaner than an IGES file."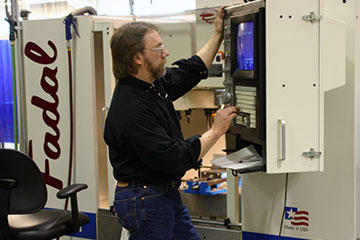 Jasmer relies heavily on Gibbs CAM SolidSurfacer to create toolpaths directly on the solid models from Pro/Engineer. An example of the key role Jasmer plays when it comes to prototype work is the bracket used for holding the passenger seat onto the back fender of the new Vegas Jackpot. As part of a custom-look bike, the bracket has to look custom as well because riders may not want to have the passenger seat mounted on their bike all the time. Simply placing exposed bolt holes on the fender was out of the question for the custom look Victory Engineering wanted for the Vegas Jackpot.
The challenge with this particular bracket is that it's a fair-sized part (about 13 in. long by about 10 in. wide) yet only 0.100 in. thick except for some gusseting. Almost every surface of the bracket is contoured, with the only flat surfaces at the bottom of the counterbores and the seating surfaces on the opposite side of the counterbores. Since it is also meant to be chromed, the bracket required an excellent finish that wouldn't require a lot of sanding or polishing. As a prototype machinist, it's more important for Jasmer to spend his time programming the next part and let the CNC machine produce a finish that requires minimal handwork.
For the contoured surfaces on the bracket, Jasmer used GibbsCAM SolidSurfacer to compare different options with contour cutting but settled on lace cutting with an extremely small variable stepover that machined faster than contouring and gave the finish he was looking for, especially along the edges. GibbsCAM made it easy for him to try different machining strategies, compare cycle times, and run the Cut Part Rendering process simulation to compare finish quality before adopting the ideal process for creating the part.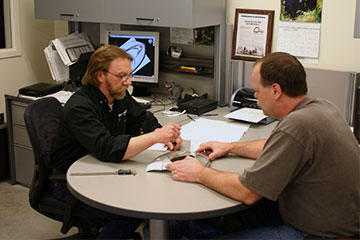 "On this part we have a couple of deep V-grooved areas where we ran into some issues," comments Jasmer, "I made up the first prototype and then we sent it out to be chromed. We discovered that some of the radiuses were so tight and some were so deep that we had difficulty getting the chrome into those areas. On some of the steep grooved areas I used a 3mm or even a 2mm ball end mill to get down into tight areas. Of course, it had to clean up well so we could chrome it. With GibbsCAM's Cut Part Rendering simulation I could really see what the tool was going to do and whether I was going to end up with a little mark where the tool stopped."
Jasmer ended up making several different revisions of the bracket before the chrome had the trademark quality look of a Victory motorcycle. Since GibbsCAM is a process based CAM system, multiple part revisions were no problem. GibbsCAM allows users to build their own libraries of standardized processes and then reuse them for subsequent jobs. Standard processes improve consistency and overall job quality. GibbsCAM's full associativity between geometry, processes, and operations also supports multi-process programming, so a full range of applied processes can be stored such as multi-process hole making or pocketing operations.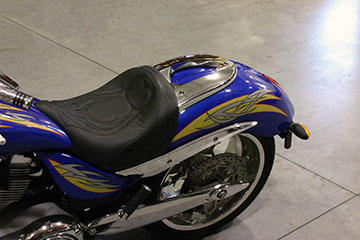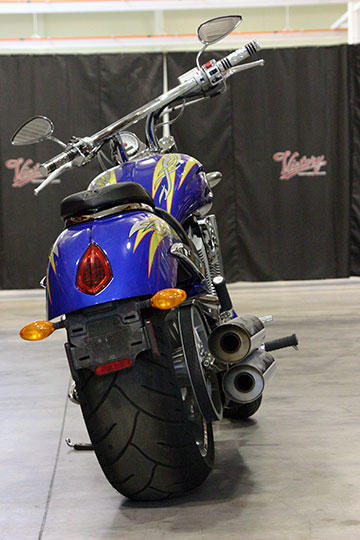 In this situation, the part didn't change dramatically between each revision. The changes were primarily limited to improving the radiused areas that were causing chroming problems.
"Since I was doing this part repetitively, one version after another, it was easier for me to just import the new model. I had both models on the screen so I could really see the areas I had to worry about. I reused all the processes that I already had in my program instead of saving them and pulling them back in. I put the new model exactly where the previous one had been, then I'd start at the first process and double-click it. I could see the areas where the radius had gotten bigger and knew that I'd have to re-cut that area. I basically just went right down my machining tiles and told the system where to re-machine. If you're making prototypes and have changes, this makes it a lot easier. If you're going to be making the same type of part over and over, or somewhat the same part or the same processes, you can save those processes in a file and pull them up at a later date."
Jasmer is extremely pleased with GibbsCAM, particularly its ease-of-use, support for solid modeling directly within the software, the wide range of toolpath options, and the friendly support he receives from his local reseller and from GibbsCAM as well. Jasmer uses the solid modeling capabilities to design his own fixtures that follow the contours of the parts he machines or to make modifications to Pro/Engineer solid models.
Jasmer is looking forward to adding more state-of-the-art equipment in the future. "We need great tools to be globally competitive." When it comes to purchasing new technology, Jasmer sums it up nicely. "Whenever I buy equipment I look at the integrity of the equipment and how easy it will be to work with the vendor down the road. The Gibbs support people are fantastic. If I have a question or a problem model, I'll enlist their help. They respond very quickly. I rely on them for help when I don't have a lot of time to figure out a problem. Every time I talk to the support people it's been a great experience." Innovation has been the driving force at Polaris for over fifty years and remains so to this day because the people at Polaris have a passion to be the best and build the best.